Samsung Galaxy Tab New Teaser Image: Possible 8.9-inch
Samsung is up to something special when it comes to the new Galaxy Tab and a little while ago we reported on the new Samsung Galaxy Tab 8.9-inch model coming soon, well this time there is a new teaser image.
Thanks to Samsung Hub, Samsung has now posted a new picture of the Galaxy Tab and we think it may possibly be the 8.9-inch version that will be announced and unveiled at CTIA on March 22.
Samsung is not revealing too much at the moment but if you look at the picture below that we mentioned in our previous news article via Mashable you will notice it says what's your Tab life 78910, which surely means 7-inch / 8.9-inch / 10-inch.
But if you look at the NEW Samsung Galaxy image it also says what's your Tab life 78910 but with a new black tab offering, check out the hole that has got to be the 3.5mm headphone jack.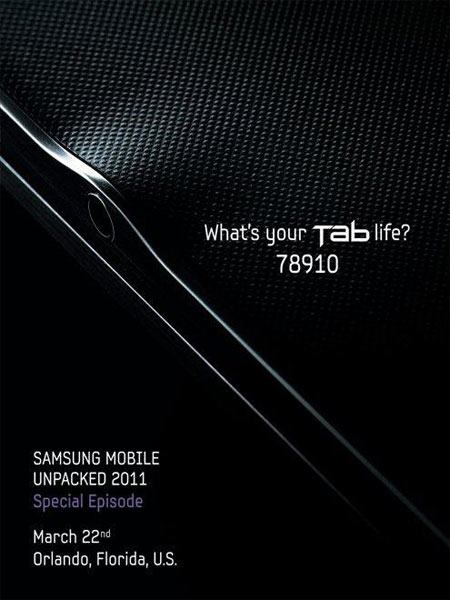 The new image also shows Samsung Mobile Unpacked 2011, Special Episode March 22, Orlando, Florida U.S.
Join us on Facebook or Twitter because soon as this new tablet is announced and unveiled we will give you all the details covering specs, features, where to buy and much more. Sorry for the quick article but that is all we have to go on at the moment.