iPhone Accessories: Aqua Phone Case For Underwater Fun
There's a new smartphone accessory coming out to play for the iOS and BlackBerry platform called the Aqua Phone Case and comes from British gift an gadget developer Thumbs Up, who will be launching the 100 percent waterproof smartphone case to the mobile market sometime in August.
So what's so special about the Aqua Phone Case I hear you ask, well placing your iPhone or BlackBerry smartphone anywhere near water usually send the owner into somewhat of a panic, so often when on holiday they leave their smartphone well away from the pool or beach, but the Aqua Phone Case is completely waterproof and also protects your beloved device from such nasty stuff as sand and snow.
With your smartphone you can of course take pictures, video and even FaceTime with the iPhone, and now with the Aqua Phone Case you can apparently do all those things whilst underwater, snap photos of the sea bed, have a video chat when diving, and even shoot of a text whilst swimming.
The Aqua Phone Case from Thumbs Up, is manufactured in durable PVC and transparent Perspex with a water tight rubber seal to keep out all that nasty smartphone destroying liquid, while the touch sensitive transparent screen enables the user to access all the device's apps and features.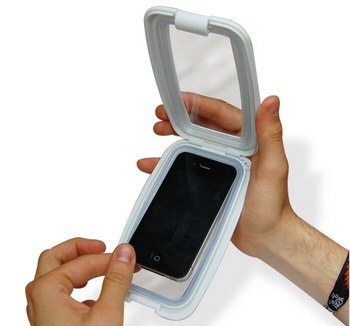 The Aqua Phone Case is a hinged case with a touch sensitive Perspex skin, and guaranteed waterproof to up to depths of one metre, has a slim form fitting design, and enables photo and video taking when submerged under water.
The Aqua Phone Case will become available for purchase sometime in August and is for the iPhone 2, iPhone 3G, iPhone 3GS, iPhone 4 and BlackBerry smartphones, and will once released command a not too hefty price tag of £19.99 from Thumbs Up.
Yes well I don't know about you but personally I wouldn't really trust a smartphone case to completely keep out the water unless I saw it with my own eyes first, sorry I'm a doubting Thomas, but as water damage can of course void your warranty and leaf your smartphone fairly useless, I personally wouldn't take the chance with my own phone.
Of course that doesn't mean that this smartphone case doesn't do as stated, especially as they do offer a guarantee on one-metre depths. So what about you, would you take your trusty iPhone or BlackBerry underwater to snap a few images or shoot of a text or perhaps make a video, or would you rather keep your handset on dry land?