iPhone 5 With 2 Cameras For 3D, Images Real or Fake?
Yes folks, yet another couple of images have hit the net waves claiming to be the much talked about next generation iPhone from Apple, and this time said images show that the iPhone 5 looks like it's coming out to play features twin rear cameras to deliver some 3D action.
According to the guys over at Slash Gear, come from Chinese website 175wan and the purported iPhone 5 photographs were apparently taken by "accident" and originate from some unknown person in Shenzhen, although I'm not too sure how someone can photograph such a high interest device "by accident," but there you go.
In one of the images we see that the next generation iPhone will indeed be known as the iPhone 5 as there is no doubt a nice big number 5 following the iPhone banding, and at the top of the smartphone above that Apple logo sits not one but two cameras.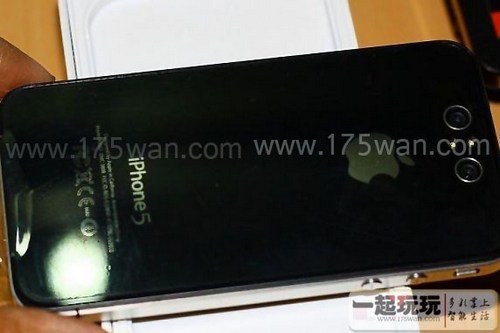 The second supposed iPhone 5 images shows the front of the device sporting what is presumed a 4-inch touch screen including a rather slim bezel surrounding that display as past rumours have mentioned.
Now of course these images could have been faked, and to be quite honest more than likely are, so the possibility of the iPhone 5 coming out in September packing some nice 3D functionality still remains firmly in the land of speculation and thus should be taken with a large bucket of salt.
Said iOS device images are of course somewhat blurred, probably on purpose so they look more genuine, as I'm fairly sure even the most amateur photographer could snap an un-blurred and properly focussed picture if they wanted to, even if they used a smartphone to snap the images which judging by the reflection in one of the photos was the case.
However, I will leave it up to our readers to decide for themselves, are these latest images that claim to show the iPhone 5 sporting twin cameras for 3D real or fake in your opinion, baring in mind that Apple would have an exceedingly tight lid on anything to do with the next generation iPhone.
Feel free to voice your opinions of these purported iPhone 5 images to our comments area below…many thanks.