iPhone vs Android: Apple smartphones preferred (46% to 32%)
There is always going to be a battle when it comes to iPhone OS and Android OS, and according to a new survey the iPhone is preferred over Android by 46% to 32%.
The Apple iPhone according to the ChangeWave survey in the number one device for buyers, and 46% say that they plan on buying the iPhone within the next 90 days, they prefer to have the Apple iOS on their new phone.
The Apple iPhone is more favoured eating the likes of Android, BlackBerry and Microsoft Windows Phone 7, it is said that the Google Android operating system is the leading US market leader but customers are giving the iPhone a vote of confidence, apparently.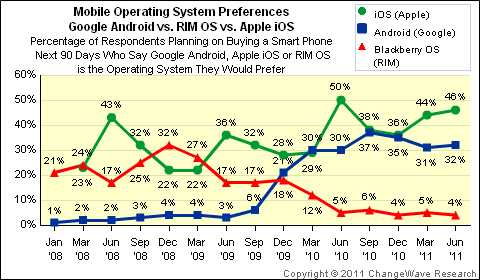 4.163 customers surveyed in June and 46 percent of these said that they would prefer to buy the iPhone via Verizon Wireless or AT&T over the next 90 days, this was compared to the to 32 percent who said they would rather Android.
Research suggests Apple iOS has gained 2 points to 1 point gained with Android of buyer preference from its last market tracker in March. It seems that 29 percent of Apple iPhone, iPad or iPod touch owners and 11 percent of other gadget owners would purchase Apple devices, and this is all down to the new Apple iCloud service.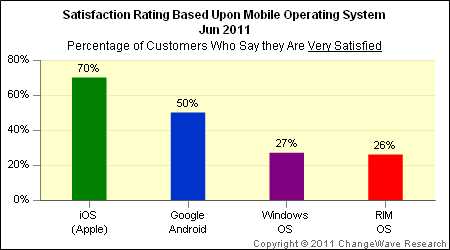 Android is still right up there and pacing the U.S. smartphone market with 38 percent market share through May, ChangeWave states: We also looked at OS customer satisfaction ratings based upon the operating system consumers have on their smart phones, and once again Apple is the clear leader — with 70% of customers using the iOS saying they are Very Satisfied. The Android OS ranks second, with half (50%) of its users saying they're Very Satisfied.
The survey focuses mainly on the North American smart phone market with the sample being 89% U.S. respondents and 11% outside the U.S. Apple not so long ago announced the new iCloud service, which will automatically store music, photos, apps, calendars, documents, ebooks, etc., and it will also wirelessly push them to any Apple device, allowing anytime, anywhere access for users. This new service is the reason more customers would like to buy the iPhone according to the survey.
Please read the full survey via ChangeWave, in the meantime we will conduct our own survey. This survey is for Phones Review readers and we would like to know what platform do you prefer, we have put a poll together below and all you need to do is click the appropriate field.
[poll id="294″]