Motorola Droid HD And Bionic Gets Pictured
We've seen images of the much delayed Motorola Droid Bionic smartphone before but the latest pictures of the Android device to hit the net are a great deal clearer and also accompany pictures of the rumoured smartphone from the Motorola camp known as the Motorola Droid HD.
The Motorola Droid Bionic and Motorola Droid HD pictures were apparently sent in by a tipster to the guys at Engadget, and obviously the Droid Bionic images don't offer up anything we don't already know, but we do get to learn a little bit about the Droid HD.
The guys say that judging from said photos, the Motorola Droid HD smartphone looks to sport a 4.5-inch touch screen presumably qHD or possibly 1280 x 720 resolution, an 8 megapixel rear camera with 1080p, a front facing camera of some description and the usual array of microUSB/HDMI ports.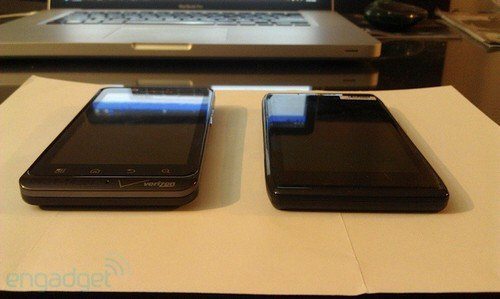 The guys also say that it appears that the Motorola Droid HD runs Android Gingerbread, whilst on its left side there is a pair of SIM and microSD slots, whilst on the right hand side of the smartphone sits the volume rocker and power button.
The rear of the handset has a "bump" surrounding the camera, speaker and LED flash, and apparently has a "large long thin battery" that may be removable.
Design wise the Motorola Droid HD is a super thin device in the realms of the Samsung Galaxy S II, measuring somewhere between 8.5mm and 9mm, while the Galaxy S II is 8.49mm, so not quite as thin as the Samsung flagship.
Other than that not a great deal is know about the Motorola Droid HD thus far, but no doubt more will surface over time and of course we will pass along anything as and when we hear.
So are any of our readers waiting to snap up that Droid Bionic once it becomes available, or does the Motorola Droid HD catch your attention more?