Best 6 iPhone & iPad sports apps 2012
Here at Phones Review we occasionally enjoy rounding up some of the best apps that we think may interest our raiders. The selection we have for you today are for iPhone and iPad and are some of the best sports apps for 2012.
We've recently given you some of the best Easter apps and also music and SMS apps but this time the apps are purely sporting and cover golf, rowing, soccer and baseball. We've included direct links to the Apps Store with the name of each app so you can find them easily for more information or to download. All of the following apps are free except for the final golf swing app.
The first of our top sports apps is the Official Masters Tournament app, which was released today. This is for the iPad running iOS 4.3 or later and brings you all the latest official news on this prestigious golfing tournament. The Masters takes place in Augusta, Georgia from April 2 to April 8, 2012 and this app offers the live simulcast of CBS's weekend coverage with HD video, viewable with 3G or WiFi connectivity. There are also 7 more live video streams from the tournament, on-demand video highlights, live leaderboard, pairings, an overview of the course and news and photos from the event, plus more. This is a great all round golf app for anyone with an enthusiasm for the game.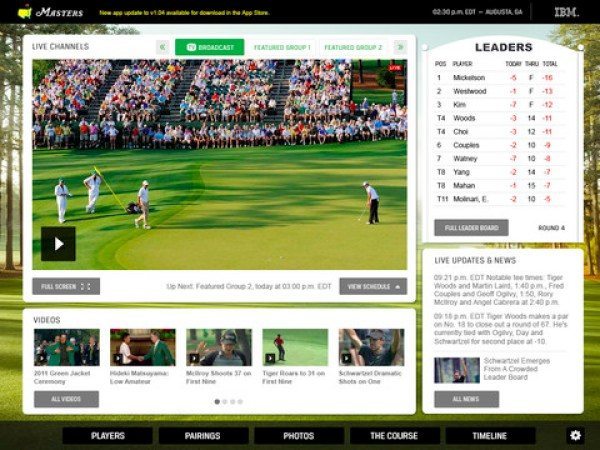 The next app we're looking at is RowActiv, compatible with iPhone, iPod touch and iPad running iOS 4.0 or later. This is aimed at those who use rowing machines for all levels of fitness and can become your own personal indoor rowing trainer. All the advice is from rowing experts, with audio to talk you through the stages, and varied time lengths of exercise. It also provides a video classroom for instruction, the capability of competing with your friends on social networks and a way of tracking your training with the RowLog.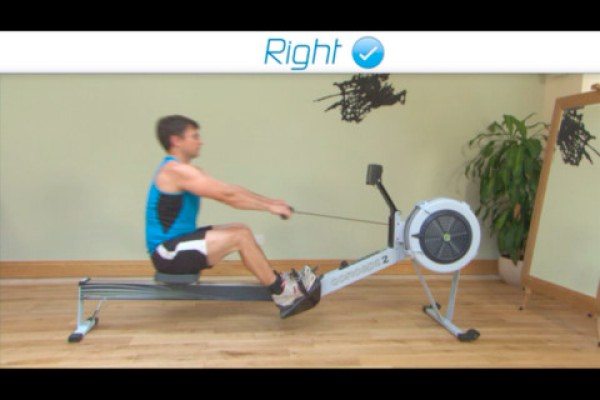 On now to Pro-Direct Soccer Zone, powered by Nike. This free app is compatible with iPhone, iPod touch, and iPad using iOS 4.3 or later. Nike players, including Wayne Rooney, Cristiano Ronaldo, Fernando Torres and more provide social news, videos and updates. This app enables the user to select and build their own kits, purchase them using the app and then share them with friends on Twitter or Facebook.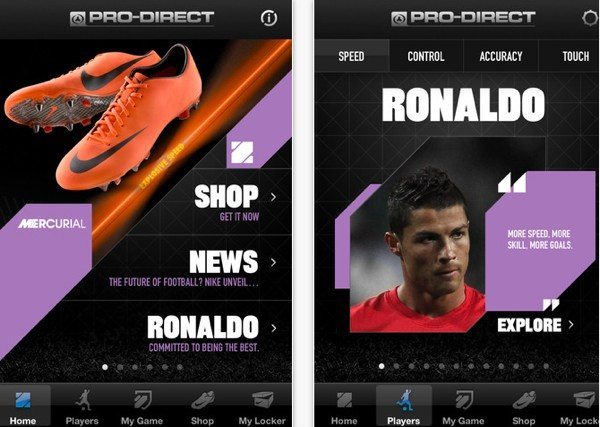 Another recently released sporting app will appeal to baseball fans and it's MLB.com at Bat. This is for users of iPhones and iPads running iOS 4.2 or later. This is billed as the #1 sports app of all time and is the official app for Major League Baseball. Its return brings the arrival of live Spring training baseball from the Grapefruit and Cactus Leagues and also offers several subscription choices to access At Bat 12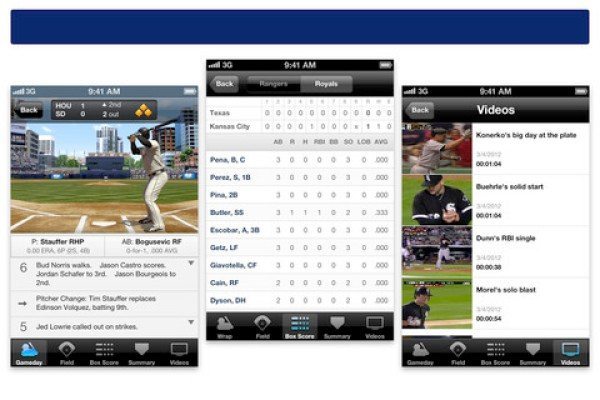 Our penultimate choice is EPSN Fantasy Baseball 2012, free for iPhone, iPod touch and iPad and requiring iOS 4.0 or later. This allows you to draft and manage your team over the 2012 season and is a good app option for those who want to really feel involved in the sport of their choice. The app allows the user to follow in real time, manage multiple teams or leagues, add or drop players and make lineup changes, all without leaving the comfort of their armchairs.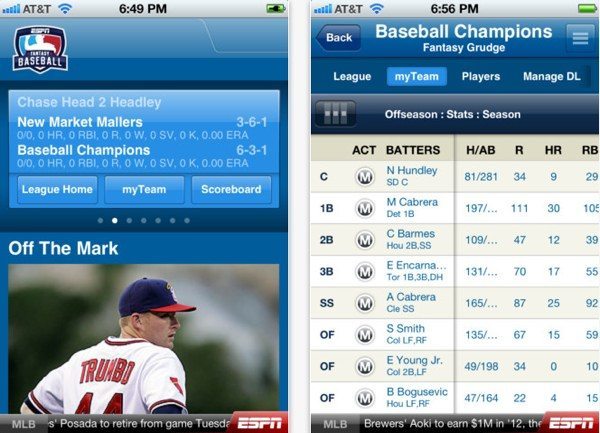 The final app we wanted to share with your is EZ Capture Pro@golf swing. This one is priced at $9.99 and suitable for iPads running on iOS 5.0 or later. The app can help to improve your swing by using Dual Camera support to record your golf swing and playing it directly back to you. It also enables the user to make a voice over video analysis lesson. Hopefully this selection of sports apps will provide something for everyone and we also invite you to share other good sport apps with us by letting us know about them using the comments box below.