Finding the perfect ugly app
Some may never understand why mobile phone users love the word ugly, but for some reason warping people's faces or bodies seems to bring a smile to most of us. Today we have decided to help everyone out by finding the perfect ugly app for iOS and Android users.
It is a giggle when we all see someone in the limelight of being ugly, by using apps that are available to us today via the App Store or Google Play. There are so many to list here so we will show you a few of the favourites to get you started, now is the time to mess around with your friends or indeed yourself and make some ugly fun. We must WARN you that these apps will seriously make you wet yourself, in some cases you may have to delete them from your device because they are addictive. The apps below are in no particular order, have a read then have fun.
First up is an app for iOS device owners and this application is called "Prank Mirror", we have already given a little hands-on review with many pictures and a video of myself playing around (Please watch me in the Prank Mirror video below).
Prank Mirror via the App Store (iTunes) is so addictive we have taken about 300 pictures and done at least 20 videos, one of the videos we uploaded to YouTube. This application comes either free or as a paid app; the pro version offers you a little more by way of features and costs 69p (99 cents). Main features includes the ability to use the iPhones front or rear facing cameras, create Prank Mirror videos, share with YouTube or Facebook, you can change your voice, distort by using different mirrors just like those found at fun fair attraction parks, this app is pure fun and well worth installing. Download the Free or Pro and start the laughter.
OK not that great looking am I, but hey this means i fit into the ugly app factor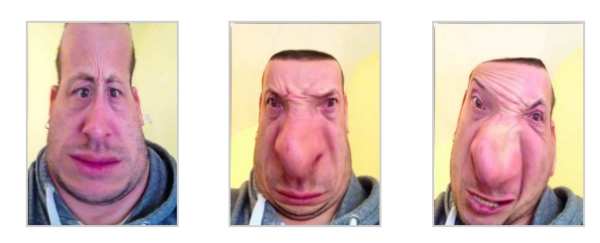 Next up is a free app for Android users called "Ugly Meter" by ZCoxer. This is a simple app that should be used if your friends will not tell you if you are ugly or not, 'Ugly Meter' scans your face using your devices camera, which in return gives you a score of your ugliness, the developer does stress that you do not be serious it is just a little fun.
Google Play also has another free app called "Face Effects" by Swiss Codemonkeys; this one allows the Android user to create face effects. Make someone fat, ugly, bald and so much more, love the fact that you can warp, distort, stretch by swiping your finger across your devices touchscreen to create your masterpiece. After you have done so you can share your picture creation with Facebook, by email or send via MMS.
Say hello to Photo Deformer the Android app, this comes either free with ads or you can opt for the pro version without ads (62p). This one is hilarious, the developer does not do this app justice with their boring description, it is actually more fun installing the app and having a look your self. Main features include: 5 deformation tools, camera support, real-time animation, multi-touch support, full size picture rendering (pro version only), Facebook download/upload, save deformations with different names, save deformations as animated GIF, send deformed pictures via mail, MMS etc, and much more, this app is pure fun.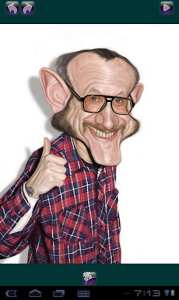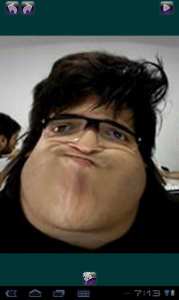 Now is the time for the amusing "Ugly Person Detector – Fake Detector" app by theM Dev (69p (99 cents). Now we would like to say amuse friends with this apps, but it will be more the case of abuse your friends with this app, this is a fun novelty application that simulates a real detector. You can prank and fool your pals with cool graphics and realistic needle movements with great sounds of a real lie detector. Grab your iPhone, install the app and then tilt your iPhone forward or backward to start the fun.
Ugly Photo Booth is perfect on the iPhone and very easy to use, there are two versions one being free and the other paid at 69p (99 cents), the difference between the free and the paid app is that the pro version offers 12 ugly face templates whereas the free one only offers 2. How about making an ugly face photo or video? Of course you would say yes you naughty person that you are, main features include: Ability to upload to Facebook or email your friends, make huge noses, piggy noses, bigger/smaller eyes, twist lips, make young faces, nasty mouths, chubby cheeks, small droopy and down turned eyes, pimply skin and much more. This app works better if you take glasses off if you wear them and keep eyes and face level, have fun.
Another great iOS app is "Ugly Meter" by Dapper Gentlemen that is 69p (99 cents). This app lets you know if you have an ugly friend, if you have not got a way to tell them that they are ugly just let the app tell them. Take a photo of your friend and then the app will give a score rating of 1-10 on the Ugly Scale, if you get a 10 you are just ugly it is as simple as that, please remember this app is for fun and not real so no fighting please.
Like we said above we could go on and on and list many apps, so we will just give you one more for iOS devices called "Fat and Skinny Booth" by T3 Apps for 69p (99cents). This is a very funny app where laughter is the main factor, if you do not laugh you may have to get help and counseling because laughing is what should happen here. You can take pictures or videos with this app, you can even create profile pictures for Facebook, go install it right now to save us time writing about it and spoiling it for you.
To find more ugly apps just search the word "Ugly" in the App Store or Google Play, hope you have fun and would love to hear from you all if you know of any other ugly app, thanks.