Top 6 Real Estate apps with listings
At Phones Review we endeavor to keep readers informed with all the latest news for the mobile technology world and as well as smartphones also like to give details of some of the best apps out there from the huge amounts available. Today we've rounded up 6 of the top real estate apps that include listings so if you're currently involved in anything to do with real estate this could be useful for you.
We all know just how complex it can be when we're on the lookout for a housing move, trying to find a rented property or searching the real estate market. The following apps, some for Android devices and others for iOS (iPhone, iPad and iPod touch) devices, should really help you out, are all extremely popular and could also interest real estate practitioners too. We've put direct links to the Google Play Store or iTunes with the titles for your convenience so you can easily download the app/s of your choice.
First off we have one for the Android platform and it's called Realtor.com Real Estate Search by Move Inc. This is a free app compatible with devices running Android 2.1 and up. The app provides up-to-date, accurate information with good photographs (for those of us who aren't moving but are just nosy!) and uses listings from the local Multiple Listing Service with updates as often as every 15 minutes. It gives access to U.S. real estate listings, an Area Highlighter so you can establish a search area, property details, open house information and pricing. Other features include the ability to save searches and listings, use voice-entered private notes and send listings to other people such as family, friends and agents.
Next we have Zillow Real Estate and Rentals and this is another free app although compatibility varies with device. Home values for over 100 million U.S. homes are available and this app is hugely comprehensive. By using Android's voice-search feature along with built-in GPS the user can search for homes while walking or driving through a locality and the app also allows the user to install Zillow widgets. Other features include Zestimate values of any U.S. home, rent Zestimates, the ability to search for homes, rentals, recently sold homes and also Make Me Move homes. You can also search for price cuts, open houses, Zillow special offers and refine searches by the amount of bedrooms and bathrooms, price and more. This really is one to recommend so take a look and see what you think.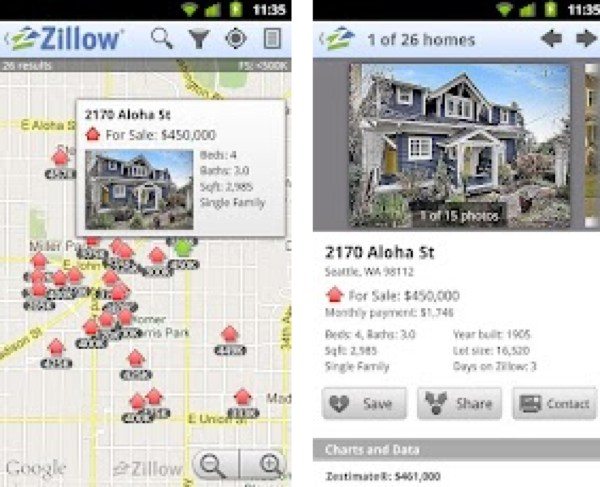 Our last Android app is also free and suitable for devices running Android 1.5 or later. It's called Real Estate by Smarter Agent and can search all homes for sale in the U.S. Users can also find out what particular homes sold for in the last 3 years and find rental apartments using GPS-triggered real estate search technology. The app allows you to search by address, city or zip code and narrow that search using price, number of bathrooms and bedrooms and distance from other requirements. This is another excellent app and if you have questions about a property or wish to arrange a tour the 'Call' facility puts you straight in touch with a real estate professional.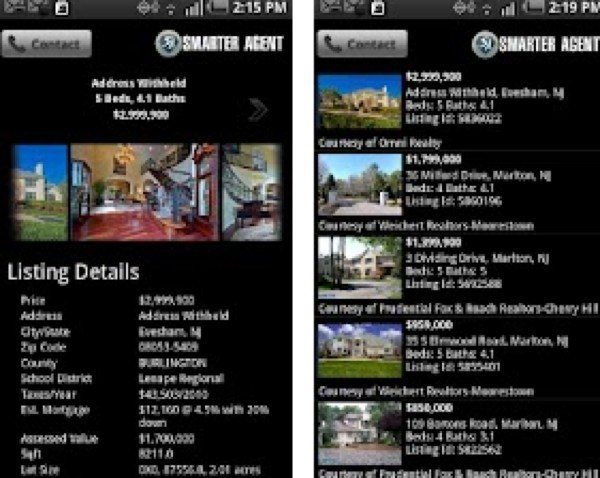 The next app is for the iOS platform and compatible with iPhone, iPod touch and iPad using iOS 4.2 or later. Titled TheAnalyst Real Estate this one is priced at $9.99 and now includes support for Canada. The difference with this app is that it is targeted at real estate practitioners and provides a suite of analysis tools for both commercial and investment use. The tools include a value of money calculator, mortgage calculator, IRR/NPV calculator, loan amount analysis report, mortgage amortization summary or schedule report and much more. Other features include an environmental risk summary report tool and property measuring tool and we can see how this could be a really useful app for those in the business.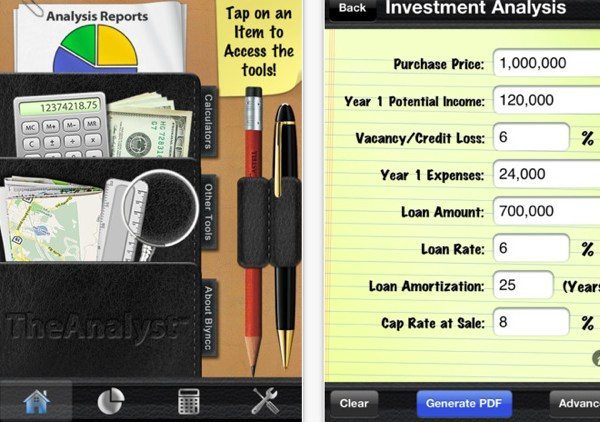 Now we have something a little different but as it's highly rated we thought we should include it. This one is a free iOS app for iPhone, iPod touch and iPad using iOS 3.0 or later and is for real estate in New Zealand. Simply called RealEstate it comes from Realestatenz.co.nz and also uses GPS for access to the New Zealand real estate market. Features include searching for properties for sale or rental within walking or driving distance, the use of maps to browse for property near you or open homes, ability to tailor your search requirements, an inspection checklist if you are holding an open home yourself, tips, high quality photos and more. Financial assistance includes access to a Westpac mobile mortgage manager, locating Westpac ATM's and branches near you using maps and the use of Westpac's mortgage calculator.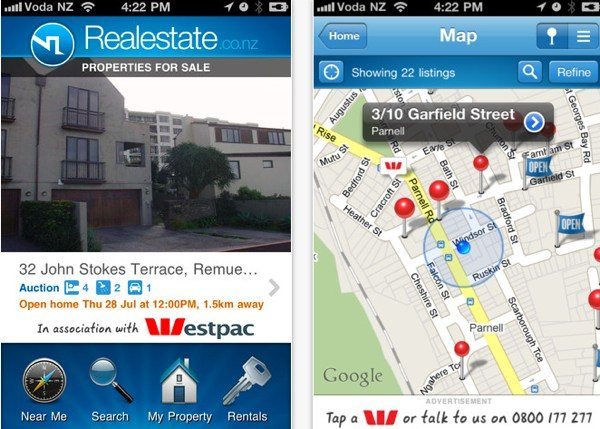 That concludes our roundup of real estate apps and hopefully at least one of these will be just what you're looking for but I know what you're thinking, we've only included 5 apps instead of 6. That's where you come in as we want to ask our readers to help us out by recommending real estate apps that you think should make the list. If you know of a really good real estate app and have personally used it to good effect then let us have the details by sending your comments using the box below.