iPhone 5 looks to ring the changes
Leaked information and rumors continue to surround the Apple iPhone 5 and we do our best to keep readers informed on the latest developments. Of course until Apple chooses to share the information with us nobody really know what it will feature or indeed look like. We have news for you today about two new iPhone 5 looks to really ring the changes and for once we can be sure that neither will actually appear. They're pretty fascinating to take a look at though.
One iPhone 5 look is a futuristic spider-like design phone that you may view either as extremely cool or downright weird. While we can imagine that years down the line all phones might be built like this we can't see it happening just yet, not without scaring unsuspecting people and small children. The design comes from Federico Ciccarese and utilizes a great basic idea where instead of carrying an iPhone as a separate item, the phone almost becomes a part of you, wrapping round your hand so that the curved display cups the back of your hand.
This amazing iPhone 5 look was brought to our attention by Mashable where you can see several more photos apart from the one we've shown below. You can also see this iPhone 5 rendering in a video below this story for an even better look. Now a lot of people were pretty upset last year when the iPhone 4S was released looking exactly the same as its predecessor and we've said time and time again that Apple needs to come up with groundbreaking specs and a breathtaking design this time around. If Apple was really going to release a new iPhone that looked like this it would certainly be both groundbreaking and breathtaking though we doubt if the general populace is ready for it just yet.
The iPhone 5 on this concept has silver spider-style legs that wrap around the rest of your hand between your fingers, around your wrist and onto your palm and while we think it actually looks incredible we can't see it quite catching on. Plenty of people don't even like wearing a ring for example so the idea of your palm wrapped in metal may not appeal. We'd like to hear what you have to say about this one though so do let us know and read on after the image for another iPhone 5 look.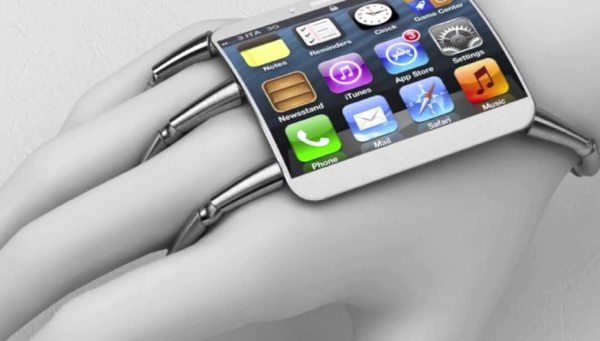 Now we have yet another new look iPhone 5 for you and this time the brains behind this concept have come up with a cross of the two biggest flagship smartphones of the year. Imagine a world without any Samsung or Apple patent litigation, a world where mobile devices were kept out of the courtrooms. That's what Tech Radar had in mind when they came up with a new look smartphone that amalgamates the Apple iPhone 5 with the Samsung Galaxy S3.
They've incorporated the best factors of the Galaxy S3 with elements most likely to appear in the iPhone 5 so it has a larger display and memory card slot of the GS3 combined with a decent design, something that many feel the real Galaxy S3 lacks. Cleverly it's been named the iSung Galaxy 5 and this one certainly looks more like the average type of smartphone that most would consider using and we think it actually looks pretty good. You can also see a video below this story of this rendering as well as in the still image below.
We'd really like to hear what you think about either of these iPhone 5 looks and although we'll never see them hit the shelves, would either appeal to you? Can you imagine just what brilliance could be achieved with a joint Samsung and Apple phone project? Maybe you wish you could get your hands on the spider iPhone 5 right now? Let us know with your comments.