BMW 5 Series RC Car review for iPhone users
Those that own an Apple smartphone should read this review, we have received the iPhone Controlled BMW 5 Series RC Car and we will let you know what we think of it. When we got this product in the post it was not packaged in the correct box so there is no photos of this, it was just placed in a brown cardboard box with the BMW inside with accessories, but hey this is about the remote controlled car not the packaging.
To receive a 5 series RC car via iHelicopters.net that you can control via the Apple iPhone with accompanying app we was totally intrigued. So lets start this review to see what we think of this iPhone product.
Introduction
If you love high power, ultimate amounts of fun, flashing lights and the ability to race the car via the iPhone, we know you will love this product. It comes with a respectable price tag that is not too high but yet not too low that makes this cheap. You will have hours of fun with this car, we will not spoil too much as we know will give you the full hands-on review.
In the Box
You will get in the box the – BMW 5 Series RC Car (Model M-Racer Speed King 3D-13), USB Charger Cable, RF Transmitter and of course the Instruction Manual.
First Impressions
At first we thought it was just an ordinary looking car that can be used with the iPhone, ok so you would love to own a BMW 5 series but the bank says no at this time, well now you can have your very own BMW at a low cost. This RC car is a replica of the BMW 5 Series F10 and it definitely has appeal and of course the innovation of driving it via the Y-J Helicopter app.
The Design
At a quick first glance you think it looks like an ordinary cheap RC Car, but we knew we was wrong as soon as we started to handle it and look closely, trust us when we say that this car has been built with quality in mind. We controlled this car and had a few mishaps bumping very hard into things and thought that would be the end of the BMW, but not even a scratch, well done for the build.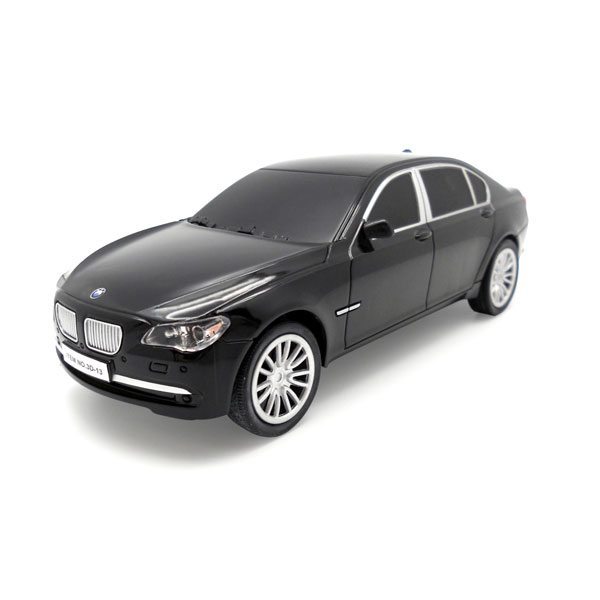 It looks like a BMW with the curvatures and lines, the headlights, rear lights and even the wheels. The suspension and steering are both supreme, very smooth on all surfaces.
The Key Features
Easy to use, control range up to 20 meter is fantastic, love the fact it comes with 3 different frequency bands and the reason this is a great idea is because you can race this with other BMW RC cars at the same time in the same area. Some might think that the size of the car is on the small size at 21.0 x 8.0 x 7.0 cm (1:24), but we think it is perfect because you can play with it in your house or office without the need to go out.
The BMW 5 Series RC Car requires 3×1.5V AA batteries, which are not included, it also comes with built-in A/B/C 3 channel band selection and an on and off switch, the transmitter that plugs into the iPhone headphone socket says that it takes 60 minutes to charge but we did this in 45 minutes as we let it go completely flat then charged it. When we had a full charge on the transmitter and put new AA batteries in, we got around one hour and 20 minutes even though it says it will only get 60 minutes.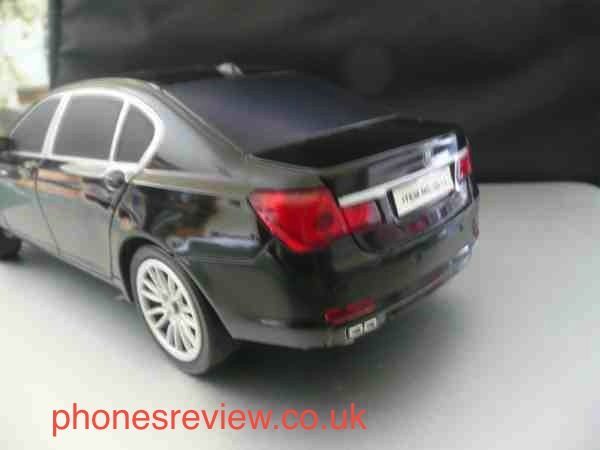 The App
You will need to download and install the free "YJ-Helicopter" app via the App Store (iTunes) to control the RC car, when you install the app you will be able to use the Left/Right Rotation and Forward/Back controls. Within this app you can also choose to control the car via controls, or you can use the accelerometer by tilting left and right to steer the car. You can also turn the lights on or off on the car via the app as well, yes it comes with brake lights and full headlights are included, brake and the red lights show up on the car, awesome addition.
The Positives
Everything is positive here, great build, easy to control, awesome amount of power and most definitely put a smile on our faces. If this was a bad product we would most definitely let you know what the faults were, but there are none and we just want to get playing again. We have not had a lot of time on this product when it comes to putting it through harsh tests, but what we already know is that it is a great buy and we would highly recommend.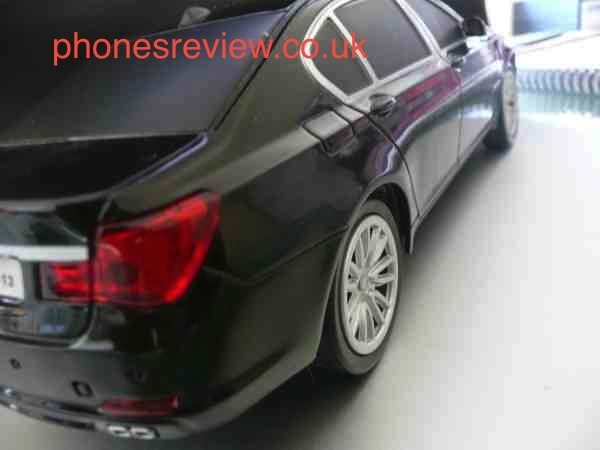 The Negatives
Still sitting here wondering what negatives there are, is it too small? NO, is it too big? NO, does it put a smile on your face? YES, should we get the Audi R8 and BMW X6 to go with it? OH YES INDEED
Phones Review Overall Summary
The iPhone Controlled BMW 5 Series RC Car is worth buying, its fun with that added quality to boot, not sure how much more we can say about this product via iHelicopters other than awesome, spectacular and wow. We already reviewed the iW500 car that can climb walls and stick to ceilings, but to be honest we prefer the BMW by far, both provide hours of fun but the BMW is the one we would choose.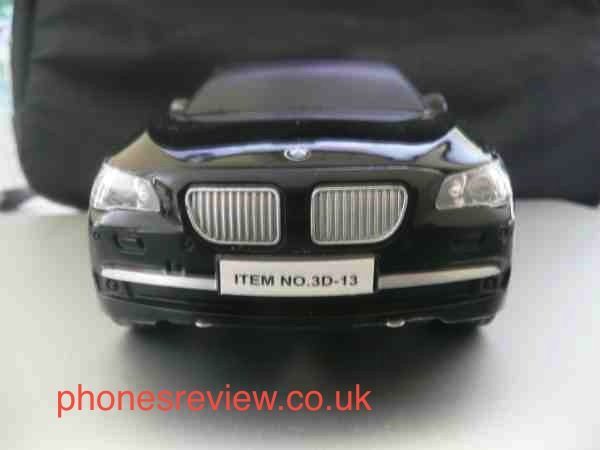 Where to Buy and Price
Please visit iHelicopters.net for more information and the option to buy for only $59.95; this is a fantastic price for such a machine. (Please watch the video provided below for more BMW action)
More Photos We blurred the images on purpose to stop mass reflection, we have a new camera and trying to get used to it?