Save RIM with BlackBerry PlayPhone Windows Phone 8
I'm sure most that watch the mobile space know that BlackBerry maker Research In Motion hasn't been having too good a time for quite a while now, and despite rumours of others looking to pick up a piece of the Canadian company, RIM is placing all their hopes to regain their former standing in the mobile arena on BlackBerry 10 devices. However, perhaps RIM really needs a BlackBerry handset that doesn't use the BlackBerry operating system, but rather a rival OS such as Windows Phone 8.
Enter the BlackBerry PlayPhone, which has been brought to our attention by the guys over at Concept-phones, and is a concept design by Vietnamese freelance designer Pham Tran Hai, who felt BlackBerry needed a bit of a overhaul with Microsoft's Windows Phone 8 operating system, and thus came up with the BlackBerry PlayPhone design.
Apparently the BlackBerry PlayPhone has been designed with men in mind, and depending on your choice would feature either a wood back or gold back, although gold sides are also included with this BlackBerry concept.
Spec wise if the BlackBerry PlayPhone did actually ever make it into reality, something that is highly doubtful, the handset would features a 4.3-inch HD AMOLED touch screen along with a Nokia made 12 megapixel PureView camera, 1GB of RAM, a quad core processor of some description, full 1080p video, 32GB storage and a 2000mAh battery.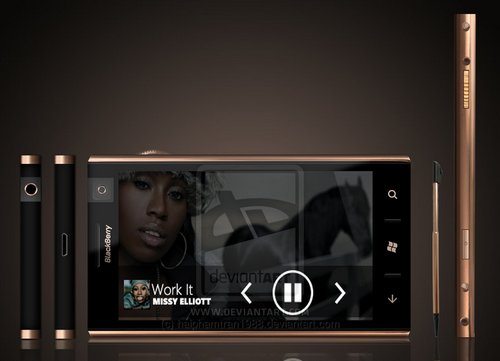 On the right hand side of the Windows Phone 8 toting BlackBerry PlayPhone, rather than the usual volume up/down buttons there would be a scroll mechanism, which could also be used for scrolling when reading a book or when browsing the internet.
And basically that's your lot with the BlackBerry PlayPhone concept, but RIM could possibly be saved if they did bring a mobile smartphone like this to market, it looks very nice indeed, and could potentially give Research In Motion the kick in the right direction.
However, the big question is, if the BlackBerry PlayPhone ever made it into the mobile space would people really want a BlackBerry that runs Windows Phone 8? Feel free to let us know if a WP8 BlackBerry would float your boat by dropping us a line to our comments area below.