Live Score Addicts app is incredibly comprehensive
If you are a football fan and one of the Android faithful you will probably like this, after being inundated with request to bring their app to the Android platform, Football Addicts has now delivered their Live Score Addicts app to Google Play so the Android faithful that adore the beautiful game can keep up with their favourite teams, and get live scores, video highlights, and push notifications for in excess of 400 leagues.
The Live Score Addicts app for Android delivers live tables, live match stats, lineups with formations including full screen mode, goals, cards, and substitutions from matches, apparently the fastest push notifications in football, match minute in goal notification, better match time accuracy with faster updates, quick set up to your essentials, and the ability to sort matches and priority order cups and leagues.
The Live Score Addicts app also enables the user to customise notifications for each team, or even for each match, along with the ability to share match statistics and results to social networking sites such as Twiiter, and Facebook or via email, and also delivers half-time and full-time results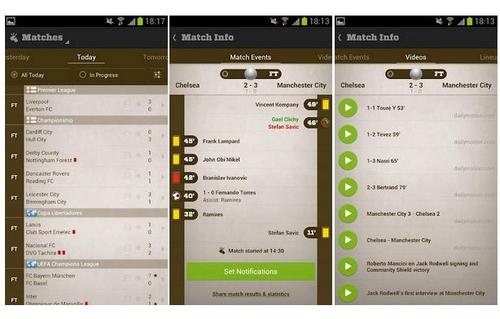 The Live Score Addicts iOS app, which has been available for some time from iTunes, is ranked number one sports app in the United Kingdom, Italy, Netherlands, Portugal, Sweden, Denmark and Ireland, and now has finally come to the Android platform.
For those Android football fans out there we have a quick introduction video of Live Score Addicts for Android for your viewing consideration below, so don't forget to hit that play button to check out what the app has to offer football fans, before heading off to Google Play where you can download Live Score Addicts for free.