Samsung Galaxy Note 10.1 easy to repair if stripped
As you know, when a new tech device hits the mobile space it isn't too long before someone manages to break inside that device to see just what is going on internally, and this has now happened to the Samsung Galaxy Note 10.1, revealing that the Android Ice Cream Sandwich device is fairly easy to repair, apparently far more easier to repair than the new iPad.
An article over on Eweek states that the guys over at iFixit have now performed a tear down with the Samsung Galaxy Note 10.1and gave the device an 8 rating for repair easiness, whilst the new iPad received a low rating of 2, and that low rating was commented upon by readers saying it was impossible to use clips rather than glue to fix the glass to the slate as it is too thin.
However, the Samsung Galaxy Note 10.1 is actually thinner than the new iPad, coming in at just 8.9mm thick, and doesn't use glue but rather clips to hold that glass to the front similar to the original Apple iPad, although Sammy did go for Phillips screws rather than the screws Apple opted for with their iOS slates.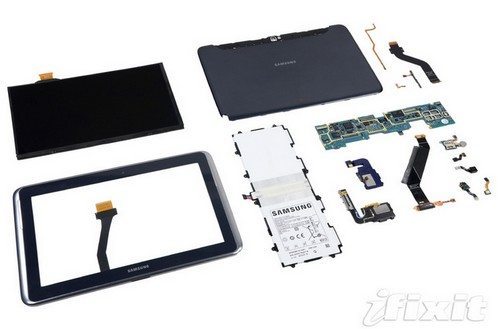 Inside the Android slate Samsung has used a modular layout that when combined with the clips helped towards that 8 out of 10 rating, and apparently there are roughly 16 connectors inside the tablet that also effect the rating because repairs move more swiftly when connectors are used for components.
Furthermore the front and rear camera on the Galaxy Note 10.1 do not share the same cable, whilst the dock connector, battery, and motherboard held in place by screws, so are easy to detach.
So generally the idea is that the Samsung Galaxy Note 10.1 is a darling of a device to get into and repair, something the new iPad can't lay claim to.