Memento Database manager for Android update by LuckyDroid
If you are one of the Android faithful that makes use of the Memento Database manager app for Android devices, LuckyDroid have now announced Memento Database 2.0, and the updated Android application now features full Android 4x support along with optimised search, restyled interface, and SD card database storage.
The Memento Database app for Android is a powerful tool for both business and personal requirements, and is a proven data manipulation app for both Android phones and tablets that stores , categorises and manipulates person info, delivering easy access to appointments, music albums, photo galleries, notes, map locations, contacts and more.
The Memento Database app also features vast search capabilities and can also synchronise the user's database with Google Docs on other devices, whilst strong encryption algorithms protect critical data, and the importing an exporting promote synchronising an sharing.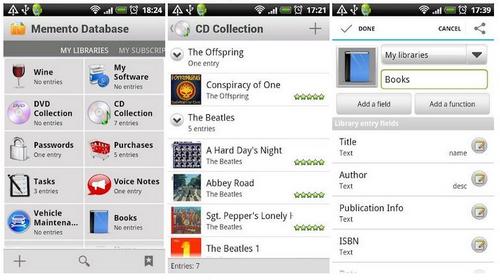 The Android application helps users sort out personal info with the ability to store, manipulate and categorise any type of personal data including to-do lists, tasks, recipes, whilst providing simply ways to deliver the information to the forefront whenever required.
For those Android faithful that would like to take advantage of the Memento Database app for Android, there are currently two versions available, a fee version of the app that offers two libraries in Google Docs along with the creation of an unlimited number of libraries, and is ad supported, and Memento Pro version, which costs $9.99 from Google Play.