iPhone 5 NFC funeral & leak based clone
We all had that loving feeling running through our bodies when we heard the new upcoming Apple iPhone 5 was going to be released with NFC technology, ok the fun is over and the excitement has been given a complete blow to the head as this is now not the case, say hello to the iPhone 5 NFC funeral.
There have been a lot of reports today suggesting that the iPhone 5 will feature near field communications technology, this good news has turned into bad news as this is not the case, there were a few images floating online showing what seemed to be NFC sensors, which we will not show now as there is no point as it will not happen this year.
AnandTech always give in-depth reviews and have a vast knowledge when it comes to products, it was these that say no NFC will be included on the iPhone 5. They mention that the primarily of the metal backside on the new iPhone shows that NFC is unlikely, there is not enough space at the top and bottom dedicated to those glass RF windows so they rule out the tech this year.
Leaks will continue to flood in until Apple officially announce the new iPhone 5, personally we say that you cannot yet rule out NFC as you never know what Apple will throw in the mix to surprise us.
The new iPhone may possibly have a new two-tone design as well as a metal insert between two glass panels; Cellular and Wi-Fi antennas will be fitted behind these RF windows.
We here at Phones Review have had a few emails sent in to us about a few features, but we will hold our tongues at the moment until we learn more, we are not ready to shoot ourselves in the foot just yet.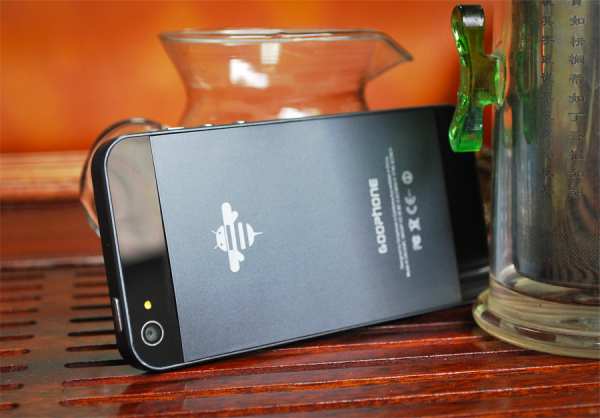 Whilst on the subject of the iPhone 5 we came across a French site called NowhereElse.fr and they have a photo of the iPhone 5 clone based on all the leaks rumoured so far, this is an Android smartphone called the Goophone i5 that looks like a new iPhone. This knockoff features a 5-megapixel rear camera, a front-facing 1.3-megapixel camera, and a 940×640 3.5-inch display screen.
As Soon as we find out more about the official iPhone 5 specs please do sit back patiently as we will be notifying you.