New HTC slate with large bottom bezel gets pictured
Most tablets in the mobile space usually come with a symmetrical bezel so that the device looks the same all around, but it appears that HTC has decided to possibly move away from the symmetrical bezel design with an alleged new tablet from the company that has been pictured and surfaced online, a design that obviously wouldn't fall foul of an Apple design patents that's for sure.
The images of this mysterious unnamed HTC tablet come our way courtesy of the guys over at Phone Arena and by way of EVLeaks who shared the images of the reportedly 10-inch slate via their Twitter account, and as you can see, three of the sides of the new slate appear to be almost bezel-less, whilst one side sports an overly large bezel.
Apparently this new mysterious tablet is said to be ready to be introduced by HTC during IFA 2012 in Berlin, and although that wide bottom bezel does give the user plenty of grip space, the company seems to have placed the camera lens smack bang in the middle of the wide space, which could possibly lead to a few accidental thumb pictures depending on just how you hold the slate.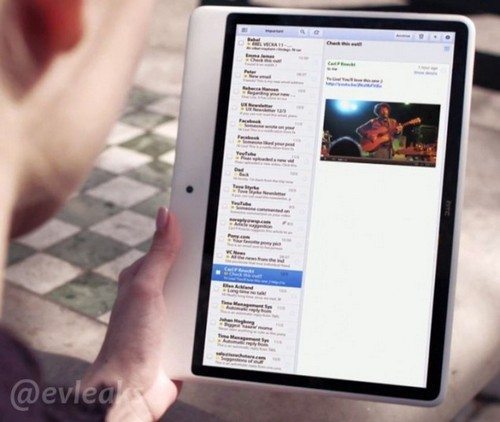 As for just what the device will be called, well there's no word on that just yet, and there's also no other details on the slate other then these first images, but we should learn more about the tablet in the not too distant future.
Other than that. We'd like to ask our readers what they think of this new unique design HTC has come up with for this tablet, is the design something you find attractive, and wouldn't mind using, or would you prefer a more traditional tablet design? Feel free to voice your opinions to our comments area below.