Kyocera Rise sub-$100 Virgin Mobile Android phone
If you are over in the United States and prefer to purchase your Android smartphone without contract, but would rather like to purchase an Android Ice Cream Sandwich handset off contract at an affordable price, you just might like to know that you can now do so by hitting up Virgin Mobile USA and grabbing the Kyocera Rise smartphone.
According to an article over on Chip Chick, Virgin Mobile is now offering the Kyocera Rise, an Android Ice Cream Sandwich packing budget handset, off contract for just under 100-bucks, as long as you are prepared to forego a front facing camera, and cutting-edge display.
For those that don't mind using a basic Android 4.0 smartphone, the Kyocera Rise offers a 3.5-inch HVGA touch screen along with a 3.2 megapixel rear facing camera with LED flash, a 1GHz Snapdragon processor, 512MB RAM, a slide out four row QWERTY keyboard, WiFi, Bluetooth, microSD expansion up to 32GB, Virgin Mobile ID packs, and Virgin Mobile Live for 24/7 music streaming.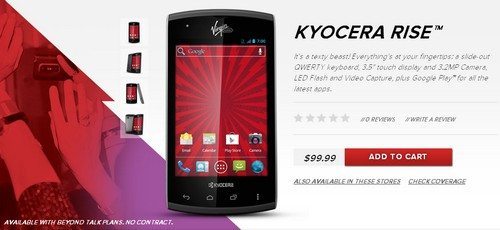 The Kyocera Rise measures 4.4 x 2.38 x 0.56-inches with a weight of 5.54 ounces, and sports a 1500mAh battery that offers up to 8.3-hours of talk time and up to 7-days standby time, and comes with a 2GB microSD card included, and is available with Virgin Mobile's Beyond Talk plans.
So if you are in the market for a reasonably priced, budget off contract Android Ice Cream Sandwich smartphone, you can purchase the Kyocera Rise from Virgin Mobile USA at a cost of just $99.99.