LG Intuition 4G LTE September release for Verizon
It appears that over in the good old US of A, it appears that the Big Red will be offering their customers a new smartphone from the LG camp this Thursday the 6th of September, in the form of the LG Intuition 4G LTE smartphone, the same day Motorola unveils their line up for Verizon and the carrier launches the Samsung Galaxy Stellar.
According to a report over on Engadget, a document of Verizon's internal system that details the LG Optimus Vu has surfaced, and within those documents the LG Intuition 4G LTE availability date is revealed as the 6th of September for online purchases, whilst the Android smartphone will be available in all channels as of the 10th Sept.
The LG Intuition 4G LTE is the Big Red variant of the LG Optimus Vu, and as such has much in common in the design and specifications, such as a 5-inch IPS touch screen with Gorilla Glass, an 8 megapixel rear facing along with a 1.3 megapixel front facing snapper, 1GB RAM, a 1.5GHz Qualcomm MSM8660 dual core processor, MDM9600 LTE modem, and runs the Android Ice Cream Sandwich operating system.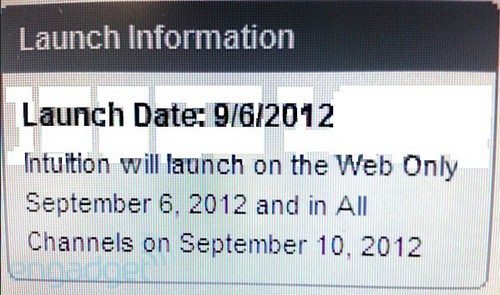 As for dimensions and weight, apparently there also isn't much difference between the LG Intuition and the LG Optimus Vu, however it is said that the LG Intuition is somewhat of a close rival to the Samsung Galaxy Note 2.
When it comes to pricing on the LG Intuition 4G LTE, the word is the Android smartphone is expected to have a price tag of $199.99 when signing up for the usual two-year agreement, or if you prefer, you can opt for the no commitment price of 549-bucks, although these prices haven't been confirmed.
So there you have it, will any of our Android faithful readers over in the States be purchasing the LG Intuition 4G LTE online as of the 6th or will you wait for the 10th so you can grab it in store?