New Nokia Lumia 820 LTE 4.3-inch cheaper than 920
Nokia have just announced another smartphone, the first one was the Nokia Lumia 920 and now we can reveal the Nokia Lumia 820, this will be cheaper than the 920 making it a budget-friendly handset. This new midrange mobile phone will capture the hearts of millions and we can see it doing rather well on the sales front.
The Nokia Lumia 820 comes featured with a dual-core 1.5Ghz Snapdragon S4 processor like the Nokia Lumia 920, as well as 1GB RAM, you can have wireless charging as an optional feature, which will add an extra 1mm to its overall size.
The 820 is an attractive 4.3-inch smartphone with a glass OLED 800 x 480 ClearBlack display, it comes with an exchangeable shell design, you can also insert a micro SD memory card, this will come in an array of colours including red, yellow, grey, cyan, purple, white and black.
It is only the high-end 920 model that comes with PureView photography, so if you want this handset for this reason then opt for the high-end model and leave this be, taking photos will still be great on the Nokia 820 thanks to the 8-megapixel Carl Zeiss optics, and VGA camera for video chats.
You get 8GB of on-board memory with option to expand; it also comes with an additional 7GB of SkyDrive space on Redmond's cloud service, which comes all part of the deal. Good news is that it comes in LTE and HSPA+ variants. The Nokia Lumia 821 will ship later this year, no exact date or pricing has been confirmed yet, please stay with us though as we will keep you updated.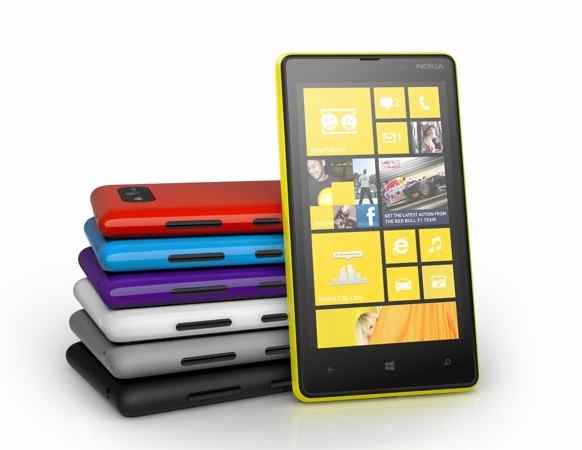 Key Features Include: 4.3 inch ClearBlack OLED WVGA 800×480, Super Sensitive touch, Nokia ClearBlack with high brightness mode, Sunlight Readability Enhancements, 1650mAh with support for Qi wireless charging, 8MP Auto Focus with Carl Zeiss optics, Dual LED flash, Full HD 1080p video capture at 30fps, as well as 1GB RAM, 8GB mass memory with microSD memory card support and 7GB free SkyDrive storage.
Please do check out the Nokia Lumia 820 hands-on experience over on Engagdet Mobile