Pre-order Phones 4U Sony Xperia T get SmartWatch free
If you are one of the Android faithful over here in the United Kingdom, and have been considering picking up the latest Android device in the Sony Xperia range, namely the Sony Xperia T once it becomes available, you might like to know that you can now put in a pre-order for the Android ICS device with Phones 4u.
Phones 4u has now announced the Sony Xperia T is now available to pre-order, and due to the positive customer response on the launch of the Sony Xperia S, the first 250 customers that place a pre-order online with Phones 4u for the Sony Xperia T will receive a free Sony SmartWatch that is valued at £99.99.
According to Phones 4u the Sony Xperia T will be available in black initially, and will be available as a free smartphone on 26-quid per month contracts with O2, Orange and Vodafone as of the 28th of this month.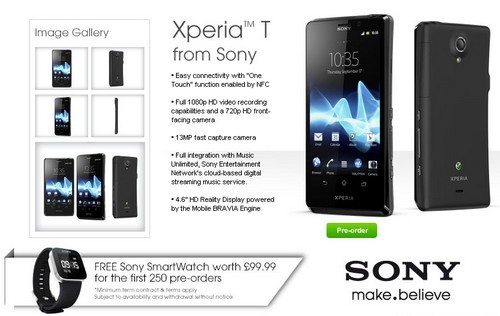 I'm sure if you have been contemplating snapping up the Sony Xperia T, you will already know what the device offers, but just in case you may have forgotten, the handset sports a 4.6-inch HD Reality Display along with a 13 megapixel rear facing auto-focus fast capture camera, 1080p video, a 720p HD front facing camera, a 1.5GHz dual core processor, 1GB RAM, 16GB internal memory, microSD expansion up to 32GB and runs Android Ice Cream Sandwich.
As for that free Sony SmartWatch, the device offers a 1.3-inch OLED touch screen along with Bluetooth 3.0 connection to your Sony Xperia T, with social networking services Facebook and Twitter, SMS, email and more.
So there you have it, if you wish to slap in a pre-order and hopefully be amongst those that gain a free Sony Smartwatch, you can place your pre-order for the Sony Xperia T by hitting up Phones 4u.
Any of our UK readers tempted to pre-order the Sony Xperia T from Phones 4u?