Nokia Microsoft Windows Phone Event Live Blogs 3pm UK
Many of you will already have heard about the Nokia Microsoft Windows Phone event due to take place today, September 5. It all kicks off at 3:00 pm UK time with much of the live coverage starting from 2:30 pm and if you want to follow all the developments while it's happening we have some details of live blogs that you may wish to tune in to. At the event we're expecting to hear more about the new Windows Phone 8 Apollo operating system and hopefully see the reveal of some new Nokia handsets on the way.
We've been counting down to the big event, which takes place in New York with doors opening at 9:30 am ET and the action beginning half an hour later. Everyone is expecting to see the unveiling of Nokia's Lumia 920, its new flagship that looks set to impress and features such goodies as wireless charging. We also showed some leaked images of another new Nokia handset set to be revealed at the event although at this point we can't be sure which phone this is. There's a lot to find out then and we'll be bringing you as much news from the event as we can.
The first live blog we have information of is from Engadget, well respected for its event coverage. As with most of the live blogs it begins when doors open at 2:30 pm UK time and they'll bring you all the news as it happens with that Engadget flair that we're so used to. You can follow the entire goings on at Engadget here. Another useful live blog resource is from PCWorld here. Their coverage of the Windows Phone 8 event also starts at 2:30 pm UK time but remember all the action will really start from 3:00 pm.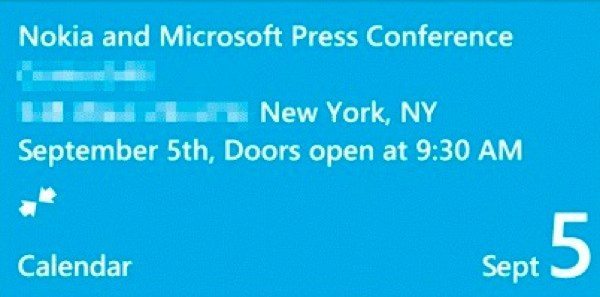 If you're in Australia then the time of the event there will be midnight, that's midnight of Wednesday night/Thursday morning just to make things clear. Live blog coverage can be found at TechGeek here if you want coverage with an Australian feel. Followers here can also tweet comments to @techgeekcom.au and some will be added to the blog.
There's not too much longer left then until we start to hear news from this event and many are expecting big things from Windows Phone 8 and Nokia. Nokia shares recently rose on news of Apple's recent patent litigation victory against Samsung and its Android devices and recently we told how many manufacturers will now consider Android alternatives and how this could mean a big boost in the market for the Windows Phone OS. Just how big remains to be seen but if Nokia can come up with the goods today it will be interesting to find out.
We'd like to hear from readers about the Nokia Microsoft event. What are you hoping to see revealed? Do you think the Windows Phone OS could continue to make inroads in the market if the hardware is good enough?