Where to pre-order Samsung Galaxy Note 2 in UK
There has been a huge amount of interest in Samsung's upcoming new flagship phone the Samsung Galaxy Note 2 (Galaxy Note II) and we've been bringing readers all of the news as we hear it. We know that this smartphone, which some describe it as a phablet, will be released at some point in October in Europe, the Middle East and Asia first, followed by the U.S. at a later date. Today we have news for U.K. readers on where you can pre-order the Galaxy Note 2.
The successor to the original Galaxy Note phone has an even larger HD Super AMOLED display, at 5.5-inches and doubts over whether consumers would really like such a big handset were soon dispelled after the success of the first Note. Other key features and specs include a 1.6GHz Exynos quad-core processor, 2GB of RAM, 16/32/64GB internal storage expandable via microSD an 8-megapixel rear camera and 2-megapixel front-facing shooter. If you want to see more details and how the Galaxy Note 2 compares to its predecessor then you might want to check out one of our previous articles here.
We've rounded up a few places that are offering pre-orders for the Galaxy Note 2 so you should be able to get your hands on it as soon as it is released. The first outlet is Clove Technology here where you'll see the pre-order page already available and a price of £546 including V.A.T. The phone comes in two color options, Titanium Gray and Marble White, and so far you can choose either of the 16GB versions with a note explaining "first stock due mid-October." The models with larger storage are also listed but you don't yet have the option to pre-order these.
Another place to pre-order is Mobicity. You'll find the pre-order page now up for both color options with a price listing of £544.95 including V.A.T. unlocked and SIM free. Mobicity quote an expected release date of October 16 and it would be nice to think that's an accurate date although of course sometimes these things turn out to be moveable feasts.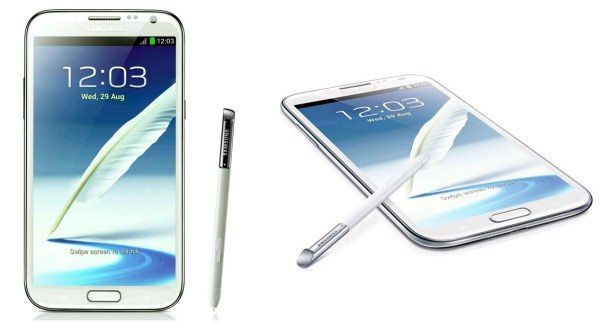 Finally another option is to pre-order from Expansys. They have a pre-order page available for the 16GB Marble White model although there's no pricing available with a note merely saying "price not announced." We'd expect it to be similar to the other two sites though. There's also no indication of when it might be available when you place a pre-order although the site does say that if you pre-order they do not take payment or deliver it to you without first confirming it with you when it becomes available, with no cancellation charges.
Hopefully this gives you a decent choice of where to start if you want to order your Galaxy Note 2 now to be sure of getting hold of it quickly on release. We're interested to hear your thoughts on this smartphone. Will you be placing a pre-order?