HTC One X+ specs get outed
Well now, what's this? It appears to be a new Android smartphone coming from the HTC camp, a new Android 4.1 handset known as the HTC One X+, which is purportedly the successor to HTC's flagship handset the HTC One X of course, and the One X+ specs have just been outed over on Twitter.
According to a report over on Pocket-lint, XDA-Developer Football used their Twitter account to dish the details on the specification for the new HTC One X+, letting everyone know that new new Android handset will run the latest Android operating system Android Jelly Bean.
Other specs revealed are the One X+ will sport 1GB of RAM, 32GB of ROM, an NVIDIA AP37 1.6GHz quad core processor and a 1.7GHz single core, sports an 1800mAh battery and also has HTC Sense 4.5 UI aboard, although there's no mention of display size.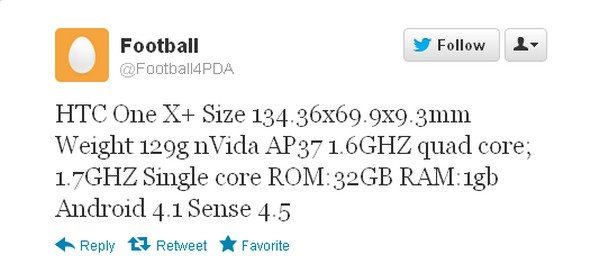 And that is basically all that has thus far been revealed with the HTC One X+ handset, but the word is the source has good form when it comes to leaking info about HTC handsets, as they recently revealed that the final name for the HTC Accord would be Windows Phone X8 by HTC.
Of course this info could be wrong as there's no word on the matter from HTC themselves, but the Taiwanese company is holding an event in New York on the 19th of this month, so they could reveal the HTC One X+ then.
If true does the HTC One X+ sound like a Jelly Beam smartphone that can capture the attention of our Android faithful readers?