Best Star Trek iOS apps prompted by Google Doodle
We're always happy to see a new Google Doodle and today there's a fantastic one that celebrates the 46th anniversary of Star Trek, the iconic TV series that spawned a series of spin-offs and movies too. We feel it to be one of the best Google Doodle's so far and this one is interactive too providing a host of nifty scenes and movements that are likely to thrill Star Trek fans. With this in mind seeing today's Google Doodle has prompted us to put together some of the best Star Trek iOS apps for iPhone, iPod touch and iPad.
Before we get onto the apps remember to check out the Google Doodle where different interpretations of Star Trek characters are represented by the letters that make up Google, Mister Spock for example being the first G. There are plenty of Star Trek apps available and we're giving you some of our favorite ones to take a look at and have also provided App Store download links. We'll kick off with an app that should please real Star Trek enthusiasts.
Star Trek Communicator costs $0.99 at iTunes and is compatible for iPhone and iPod touch running iOS 3.2 or later. A Communicator was featured in the original Star Trek series and this offers an authentic fan experience of it. The voices of Captain Kirk, Spock, Doctor McCoy, Scotty, Sulu and Lt. Uhura are all featured on this communicator app along with sound effects plus lights and motion. This app was updated recently, only last month, and the update includes more sound effects and phrases. It also has a new interface and menus, new realistic style, enhanced audio quality, a paging function, a newly designed dialer screen to access your contacts (this is only for iPhone use only), and an animated antenna grid that flips up. Altogether it's a great way of enjoying one of the features of the original show.
Real fans of the show will also appreciate the Star Trek: Klingon Dictionary app although it is priced at a fairly hefty $9.99. This is one for Star Trek devotees and considering the involved content the price tag is not that surprising. Containing over 1,000 entries this is the Regulation Starfleet Klingon Dictionary and it claims to offer more than the universal translator as it gives more subtle variations. It's a searchable lexicon that also offers verb conjugations and number translation and gives two-way bi-lingual text from English to Klingon and back again. It's compatible with iPhone, iPod touch and iPad running iOS 2.2 or later and has high customer ratings.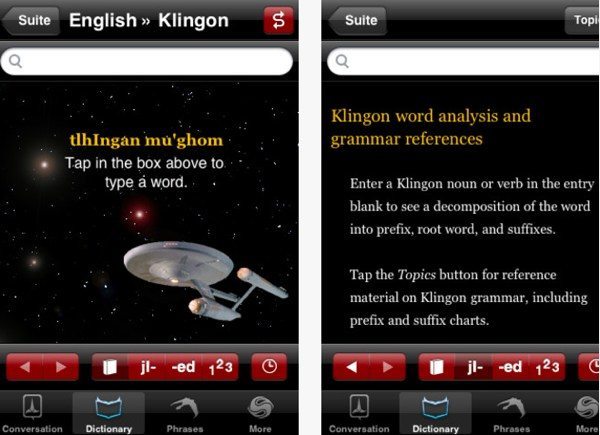 Another app, Star Trek Phaser, is a lot of fun and is also free. It's compatible with iPhone, iPod touch and iPad running on iOS 3.1.2 or later and it enables you to turn your iOS device into a Phaser weapon. You can set it to Kill or Stun modes and while you fire at your 'enemies' it belts out authentic Phaser sound effects. There's also a full 3D screen for Gaming mode and you can play in 1 Player mode or 2 Player using WiFi. It's pretty cool and we reckon most Star Trek fans will love this app.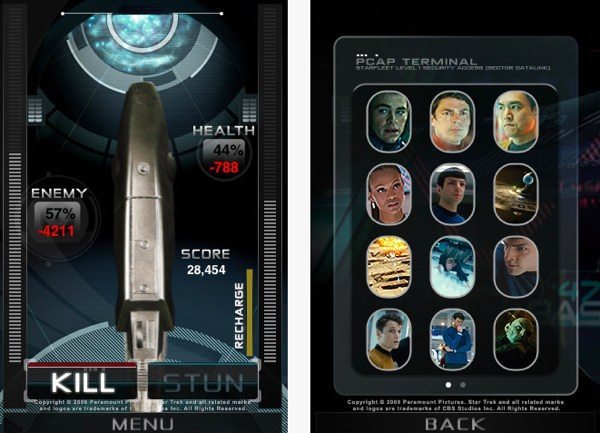 The next app is for iPad use only and is called Star Trek PADD priced at $4.99. This comprehensive app is compatible for iPads running iOS 4.3 or later and the PADD (Personal Access Display Device) offers a huge interactive database of Star Trek info. Details include ships, aliens, technologies, places and guides to episodes of the TV series and audio includes authentic computer sound effects and voice. The LCARS computer interface used in Starfleet and the United Federation of Planets is also reproduced. The app also includes cross-links to other content, latest news from the official Star Trek Facebook page and Twitter feed and it will continue to be updated with further information.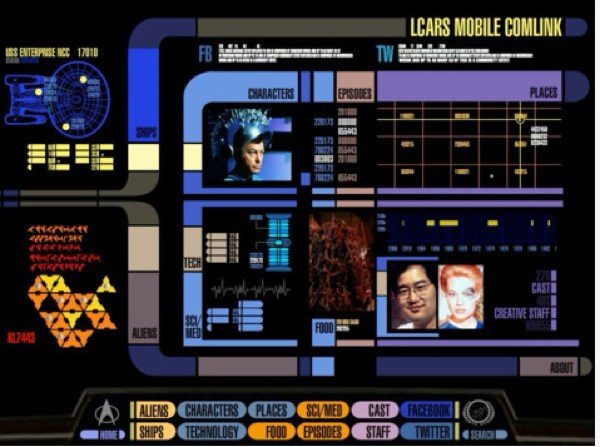 Another good choice is Star Trek Captain's Log at $1.99. This is a great option for confirmed Trekkies who can use it for networking and also note-taking using a Starfleet-like interface. You can share your logs with other Starfleet captains, keep your log private or share it with your social networking friends. This app can also be customized with different skins, sounds and images and enables a 360-degree look at the Enterprise with the use of the Gyroscope. For this app you have to be 17 years of age or older.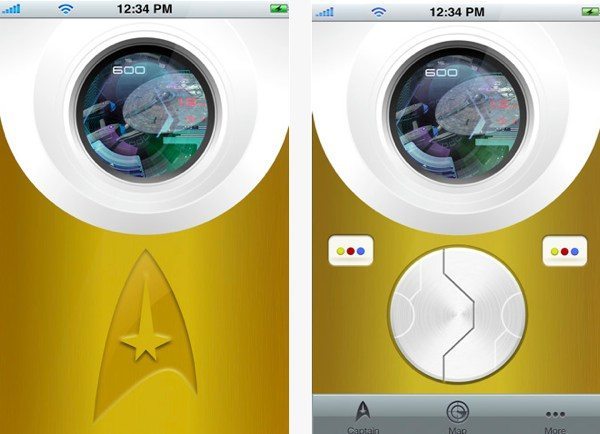 That completes our look at some of the very best Star Trek iOS apps available and we hope that at least some of them will be to your liking and that you enjoy today's Google Doodle. We're interested to hear your thoughts on the Star Trek Google Doodle and these apps so send us your comments. Do you already have one or more of these apps and if so would you recommend it/them to our readers?