HTC Desire 4G LTE, Cellcom advertising it with price
We're always on the lookout for information about new smartphones and for many we often hear the first details months beforehand. Occasionally however, a new phone sneaks up on us and one such phone is the HTC Desire 4G LTE. Firstly we noticed details of this handset as one that may be headed to Verizon and then following further investigation we have uncovered some advertising with specs and a price on the phone that could be due out later this month.
It all started with an Engadget article that obtained a leaked image from a Verizon internal device management system. This lists an HTC Desire 4G LTE but with no other information available apart from a date of August 28th and the lack of the Droid name led Engadget to surmise that maybe the HTC Desire 4G LTE is a low-end smartphone. Alternative suggestions offered up include a Verizon version of the Desire X or Desire C but there was little else to go on. Further delving however led us to a Cellcom listing for the HTC Desire 4G LTE with full specs and price and showing as 'coming soon.'
The price is listed at $419.95 with a 'your price' of $149.95 on a two-year service agreement. Specs and features include a 1.2GHz Qualcomm dual-core processor, 4-inch qHD super LCD display with resolution of 960 x 540, 1GB of RAM, 8GB of internal storage (expandable via microSD card up to 32GB), 8-megapixel rear camera with 1080p video capture and a VGA front-facing shooter. The phone also has a virtual QWERTY keyboard, Universal Beats Audio, Bluetooth, WiFi 802.11 a/g/b/n and a 1700mAh battery.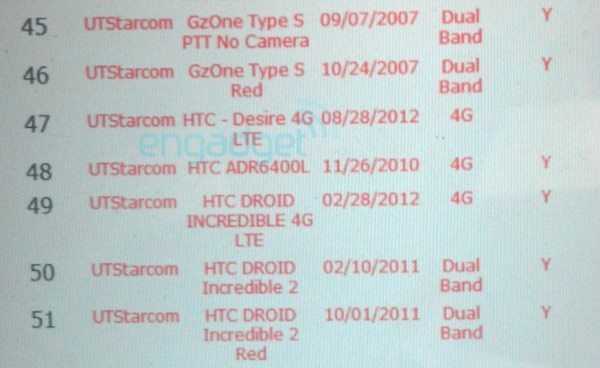 It all runs on Android 4.0 Ice Cream Sandwich plus HTC Sense and you should get around 9 hours use from a charged battery or 18 days on standby. Dimensions are 4.82-inches x 2.40-inches x 0.46-inches and it weighs 4.66 oz. Don't read too much into the August 28th date that appeared on the leaked Verizon screen. Although this could be a release date we cannot confirm this yet although you can sign up at the Cellcom link above for notifications about the release.
What are your thoughts on the HTC Desire 4G LTE? Is this a handset that could tempt you? Why not send us your comments to let us know.