iOS 6 Passbook app and business travelers perfection
With the public release of Apple's next mobile operating system iOS 6 just around the corner we are hearing more and more about new features and improvements that we can expect. We are hoping to hear further details about iOS 6 at the Apple event on Wednesday where we expect to hear the iPhone 5 announced. However today we have some news about the iOS 6 Passbook app as well as other changes in iOS 6 that should be really useful for business travelers.
Passbook looks as though it could become a really useful resource for travelers as the app will store boarding passes, tickets, hotel reservations and much more by scanning barcodes. Over time many Airlines are likely to jump on board and as the app is time and location sensitive users will receive notifications to their devices as necessary. Virgin Australia seem to be one of the first airlines to support Passbook as one customer recently discovered when checking in for his flight. He was using an iPhone with a developer preview of iOS 6 and the airline's mobile website and we imagine was pleasantly surprised to see Passbook already in play.
This news came to us from AusBT and the passenger, Shaun Lorrain, told how his mobile checkin was detected by iOS 6, which then offered to save his boarding pass to Passbook. The e-passes will then enable passengers using them to get updates on flight information and factors such as boarding gate changes. It's really encouraging to hear that Passbook seems ready to go and that some airlines look to be fully prepared for this.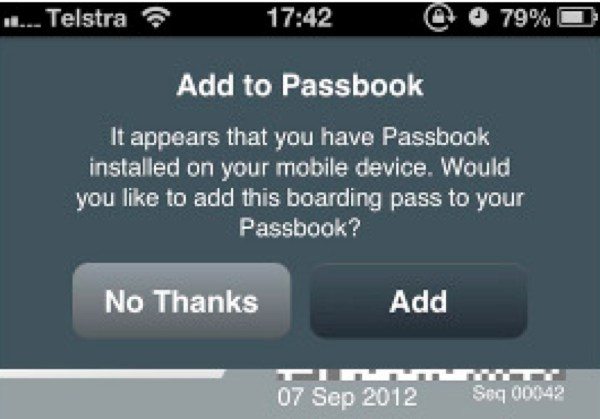 Other iOS 6 offerings that will benefit business travelers include Apple Maps, iCloud synced Notes, Mail VIP's, further improvements to the Siri voice recognition system, the ability to be able to block notifications and also to use an offline reading list in Safari. Another AusBT article goes into each of these benefits in detail so check it out at the link for further information on what iOS 6 will bring. Remember the new iOS will be compatible with iPhones from the 3GS onwards, the iPad 2 and new iPad and from the fourth generation iPod touch.
We'll be bringing all the news on iOS 6 as we hear it so do check back with us from time to time as a release could be only days away now. In the meantime we'd be interested to hear your thoughts on iOS 6 and also the Passbook app. Do you think this is something that could really benefit you? Send us your comments on this.