ICS Samsung Galaxy Reverb pre-order via Virgin Mobile
While the likes of the Samsung Galaxy S3 and Apple iPhone are on the top of a lot of people's wish lists, not everyone can afford the latest and most powerful smartphones. Luckily there are a lot of cheaper but still worthy handsets available to consumers, and the Android ICS running Samsung Galaxy Reverb is up for pre-order via Virgin Mobile.
As the Android Authority are reporting the Galaxy Reverb may not be the most powerful smartphone available, but the handset still has a lot going for it. The handset didn't get revealed until recently, but the Reverb has gone up for pre-order and is listed as a web exclusive on the Virgin Mobile website.
It is not known if this is just for the pre-ordering period or for when the handset is actually released. For those that actually pre-order the handset they should receive it soon after September 19th, which is when the handset will start shipping.
Unfortunately the Samsung Galaxy Reverb didn't receive an expected price cut, so it will still cost consumers $249.99. The handset is available with one of the carrier's prepaid plans that begin at $35 per month, which will provide 300 minutes as well as unlimited data and text messages.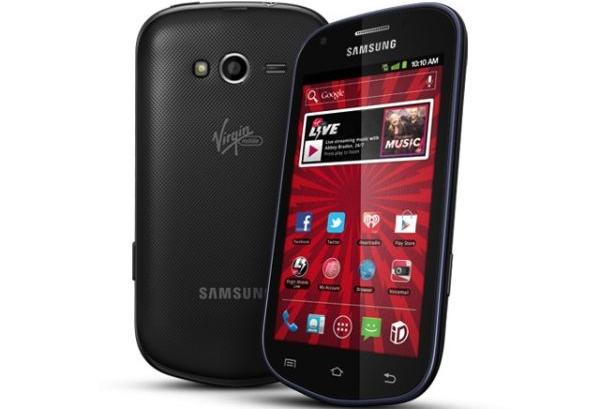 While $45 will get you 1,200 of talk time along with the unlimited messaging and data, and further up at $55 will get you unlimited everything. The carrier has also revealed more about the handsets specifications that include a WVGA 4-inch display with 800 x 400 resolution.
There is also 4GB of on board storage and the 1700 mAh battery is powerful enough to provide up to 7.5 hours of talk time before needing charging again. The handset has a nice slim form factor at only 11.4mm, and weighs only 128.7g. Powering the device is a single core processor clocked at 1.4 GHz, and there is 768 MB of RAM.
Other features include a five megapixel camera on the back with a LED flash, 1.3MP front shooter, Bluetooth 4.0, GPS, Wi-Fi, and 3GS compatibility. The handset also seems to be running a pretty standard version of Android Ice Cream Sandwich.
Currently there is no news regarding the handsets availability on Sprint, but the device should be available sometime soon. Do you like the look of the Samsung Galaxy Reverb?