Shooting the Perfect Film on your Smartphone
In recent years, artists have begun channeling their creative energies through technology. Smartphones, tablets, and laptops are changing what we consider to be the necessary tools of creativity. This process has not only altered how art is created, but also serves to inspire people to try their hand at artistic mediums they thought were out of reach. This artistic equalizer has recently manifested in film making.
As smartphones become more sophisticated and are able to record a high-caliber of film, amateur film making has been on the rise, as evidence by videos uploaded on YouTube and Vimeo. Professional filmmakers have also experimented with this medium, as the film "Olive" by director Hooman Khalil demonstrates. This film was made entirely with a Nokia N8, and is the first film made on a smartphone to receive theatrical release.
This film and others like it may inspire a whole new generation of filmmakers who already have the tools for film making in their back pockets. This article will explore some of the apps, gadgets and techniques you can use to get started on your first film.
Filming
When making a film on your smartphone, it is important to keep the phone as steady as possible. Unless your film is set out at sea during a thunderstorm, a shaky camera is a real distraction in films. While the best method of keeping your phone steady is attaching it to a tripod, this may prove difficult, as smartphones do not currently have the necessary sockets. This can be easily solved with a trip to the hardware store, however by purchasing a tripod adapter. After you attach your smartphone to the tripod, you're ready to go with some stable shooting. This video can show you how to go about setting up your phone on a tripod.
If possible, shoot the same scene multiple times using different angles, or have your friends shoot from various angles simultaneously. You can then splice the scenes together in the editing process.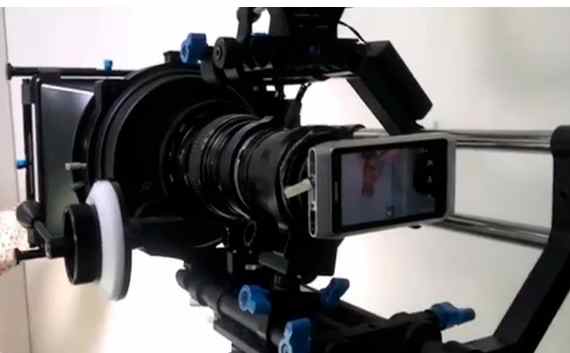 The look of your film will depend on the settings you choose. While smartphones have various options depending on the type of camera they have, there are certain common features that you can expect. Most have anti-shake settings, which is essential if you do not have a tripod. You can change the resolution of your film by changing the pixel size. Depending on your film style, you can choose from high definition to a lower pixel film for a vintage look. The focus of your frame can be tricky to master, but it is also risky to leave your phone in autofocus as it may choose the part of the frame. For most phones, you can choose the focus by touching the screen. In addition to these classic setting configurations, many phones will have special effect features (think Instagram for videos) that you can use for shooting videos. These can include a grainier look, or one that is overexposed. Choose carefully though, as these effects may be more distracting that you realize.
Sound
It is difficult to control sound interference when filming on your smartphone. It may be worth it to invest in an external voice recorder. With this tool you can record your film's sound separately and put the two files together in the editing process.
Editing
From lightening a shot to adding the perfect music, video editing is an essential part of any film making process.
If you have an iPhone, try the video editing tool iMovie, made specifically for the iPhone and iPad. With this program you can edit videos, add music and create a movie trailer to garner interest for your film. When the film is completed, you can upload it onto websites such as YouTube and Vimeo. For films with a vintage feel try iSuper8, which allows you to grade pixels and adjust the frames per second in order to get an old-fashioned look. For Android phones try VidTrim Pro, which allows you to edit your films and share them with friends online. AndroMedia HD is similar to desktop video editing software and allows you to add transitions, film effects, captions and fade in and out.
Promotion
Once you have shot and edited your film, it's ready to be promoted. At this point in the process it's important to get your film seen by as many people as possible. There are several ways to go about doing this, by building your digital presence and by hitting the streets. Upload your film to YouTube, Vimeo, and Facebook. Start a Twitter account and connect with other filmmakers, providing a link to your video in the process. While you may reach more people by promoting yourself digitally, it is important to have a tangible promotional material out there as well. To do this, use your video editing software to isolate a still from your film. Add the name of your film, where the film can be found online, and any other information you want to share.
Then use glossy paper and colour laser printers to produce the best quality posters. Spread the posters around to places where your target audience would hang out, from cafes to restaurants and shopping centers. Look for shops with bulletin boards or community centers with public information on display. Look up local film clubs, societies, forums and events in your area. Highlight the uniqueness of your project and submit your film for consideration.