Boostcase iPhone hybrid case with detachable battery sleeve
If you are one of the iOS faithful out there and not contemplating on upgrading to the iPhone 5, which is expected to be unveiled by Apple tomorrow, and in the market for a case for your current iPhone with the old dock connector, then you might consider the Boostcase iPhone hybrid case.
The Boostcase iPhone hybrid case combines a great design and technology into a simple solution, as the Boostcase is a two-part hybrid system that offers a standalone snap-on case along with a detachable battery sleeve, which can either be used separately or combined to almost double the battery life of your iPhone.
The Boostcase shell is slim fitting and finished to a high standard, and available in numerous colours, and offers solid protection whilst delivering access to all the usual areas and ports, whilst the battery sleeve is tapered and boasts a 1900mAh battery, and features a standard iPhone docking plug, which means of course the Boostcase wouldn't be any good for the iPhone 5 if the new iPhone comes with that reported smaller dock connector.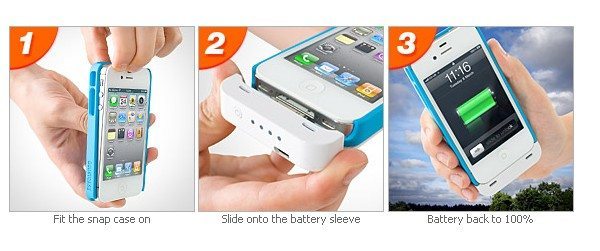 The Boostcase is for the iPhone 4 and iPhone 4S and features the ability to sync and charge simultaneously, along with external battery and audio levels indicators, with the snap on portion measuring roughly 6 x .2 x 11.5cms and weighing 0.14 grams, whilst the battery sleeve measures roughly 12.2 x 1.8 x 12.2cms (I'm sure that 12.2cms measurement is incorrect somewhere along the line otherwise it would be square), and weighs roughly 0.62 grams.
Anyway, if you aren't expecting to upgrade to the iPhone 5 when it becomes available, and you are looking for a new case for your iPhone, and feel the Boostcase could be what you are looking for, you can purchase the accessory at a cost of £59.99 with free delivery by heading on over to Firebox.