Samsung Galaxy S3 vs Nokia Lumia 920 fight club
One of the biggest smartphone hits of the year is the Samsung Galaxy S3 (S III) and this Android phone has won a lot of fans. However after the recent Apple win over Samsung in patent litigation there are concerns because Apple is seeking to add the Galaxy S3 to the list of Android hardware under dispute. With this in mind some people may consider one of the new handsets on the way that will run on the new Windows Phone 8 operating system from Microsoft. Nokia has just announced its flagship Lumia 920 phone and many are now comparing these two handsets so today we thought we'd take a look at the Samsung Galaxy S3 vs. Nokia Lumia 920 fight club.
We told yesterday how the Nokia Lumia 920 has met with a rather mixed reception after a rather bungled launch but it seems that plenty of those in the know feel that there's a lot to admire about the Lumia 920. Thus comparisons between it and the Galaxy S3 are popping up at a rate of knots and today we thought we'd peruse a few articles to get an overall idea of what's being said. Firstly Mobile & Apps have come up with a useful specs roundup between the two phones and it seems sensible to start off with the relevant specs and features for both handsets.
The Samsung Galaxy S3 is available now and has a 1.4GHz Exynos quad-core processor (some regions), 4.8-inch Super AMOLED display with resolution of 1280 x 720, 2GB of RAM (some regions) and 16/32 or 64GB of internal storage expandable via microSD. There's also an 8-megapixel rear camera, 1.9-megapixel front-facing shooter, 2100mAh battery for up to 11.6 hours of 3G talk time and it runs on the Android 4.0 ICS operating system skinned with Samsung's TouchWiz with an update to 4.1 Jelly Bean coming very soon.
For the Nokia Lumia 920 on the other hand there's a 1.5GHz Snapdragon S4 dual-core processor, 4.5-inch WXGA VGA display with resolution of 1280 x 768, 1GB of RAM and 32GB of internal storage. It also has an 8.7-megapixel rear camera with PureView technology, a 1.2-megapixel front-facing camera, 2000mAh battery for up to 10 hours of 3G talk time and runs on the very latest Windows Phone 8 OS. There's no precise release date available but November has been rumored.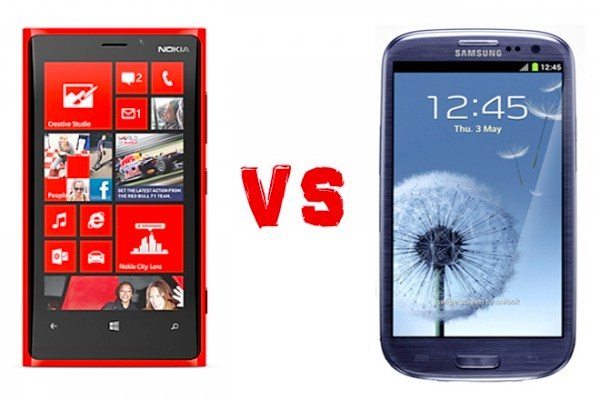 As you can see then both handsets have plenty to offer. Samsung's S3 display has won a lot of praise although Nokia says that its PureMotion HD+ is even better than HD resolution. There's more RAM on the Galaxy S3 (some versions) and more internal storage options as well as being expandable with microSD, not an option on the Lumia 920 so the Galaxy S3 is ahead on this score. Although the Galaxy S3 battery is marginally more powerful, some people may be won over by the fact that the Lumia 920 has Qi wireless charging technology. Another thing to consider is that while the Galaxy S3 camera has impressed many, the camera of the Lumia has been widely praised and the PureView technology has really come up with the goods for excellent photos and videos.
Both phones have various points that may sway readers' preference and another comparison on these two phones comes from Stuff. This looks into design and build, screen, OS, processor and camera and the initial verdict seems to be that only time will tell which comes out on top and most of this will depend on your choice of Android or the Windows Phone 8 operating system. There's also an interesting video look of these two handset from the team at Mobile Geeks and we've embedded the video below this story for your viewing pleasure.
Finally, another comparison comes from IBT, which has some interesting insight and looks at all the various aspects we've already mentioned. Their conclusion is that the Galaxy S3 wins out over the Lumia 920 but that both may be blitzed over the impending release of the iPhone 5, due to be unveiled at an Apple event tomorrow. We'll be bringing all the news on that as we hear it so check back with us for more.
Ultimately of course the choice between the Galaxy S3 and Lumia 920 will come down to what you require from a phone and personal preference of design. Availability also comes into the equation and remember the Lumia 920 isn't on the shelves yet and also pricing for the 920 is not yet available. We hope that our look at comparisons between the two will help you to decide which may be best for you.
We'd like to know if you think you'd prefer the Samsung Galaxy S3 or the Nokia Lumia 920? Maybe you'll wait to see what the new iPhone has to offer before making up your mind? Let us have your comments on this.