iPhone fashion purse, Everpurse provides battery life
If you own a smartphone then obviously you need to charge the device every now and then, but if you are an iPhone owner, what if there was an accessory that could mean you never need to think about charging your iPhone again? Well there is a little Kickstarter project running called Everpurse that could make that happen.
The Everpurse for iPhone is basically a fashion purse you keep your iOS smartphone in that will charge your smartphone due to featuring a special charging pocket that keeps your iPhone charged all day long, and when you are at home you can place the Everpurse on the included charging mat for wireless charging.
The Everpurse for iPhone has been designed by two Chicago designers so the user doesn't have to choose between fashion and function, and the Everpurse will come in a choice of three colours in fabric and leather.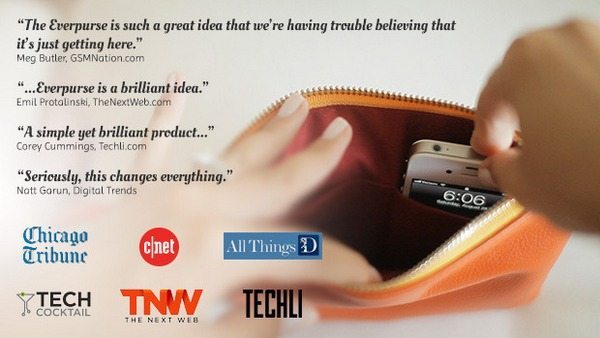 Apparently the Everpurse comes with enough battery power to take your iOS smartphone from zero percent up to a hundred percent twice over, and apparently if you think the Everpurse is just for the ladies, they also have one in black so guys can use it for charging their iPhone as well.
Of course we have a couple of videos for your viewing consideration below that lets you know all about the Everpurse for iPhone, so don't forget to mash those play buttons to check out the footage.
Currently the Everpurse for iPhone project is looking for a funding goal of $100,000 to get off the ground, and has thus far garnered $35,578 in pledges with 31 days to run, so if you feel the Everpurse is something that you could make use of you can of course make a pledge by heading on over to Kickstarter.