Pre-order iPhone 5 with questionable release date
Well today is the big day when all the iOS faithful will be eagerly awaiting news on the upcoming Apple unveil of the next iPhone, and no doubt will be chafing at the bit to slap in their pre-order for the iPhone 5, something that if you go by last year's unveiling of the iPhone 4S, pre-orders for the device followed three days after, but will it this year?
Well maybe almost, as according to an article over on MacRumors, they are hearing that pre-orders for the iPhone 5 might not start as of tomorrow the 13th, but could possibly begin as of the morning of Friday the 14th, this is because they have heard that Apple sales support teams are increasing staffing levels starting at 6:00AM Eastern on Friday the 14th.
However it is unclear if pre-orders for the new iPhone would kick off at 6:00 AM, or sometime thereafter, but if this Apple staffing increase is anything to go by, it would appear that the iOS faithful just might have to wait that extra time before they can actually place a pre-order for the iPhone 5.
I'm sure all the iOS faithful will know that Apple CEO Tim Cook will take to the stage later today to officially announce the iPhone 5, and apart from the latest news that potential owners wont be able to pre-order before Friday, there are rumours according to a report by PC-Tablet that the iPhone 5 will be released on the 21st of this month in the US.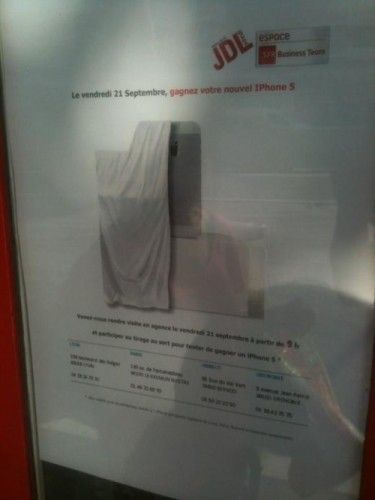 Further evidence of that September 21st iPhone 5 release date also comes via Cult of Mac, who reports that French carrier SFR, expects the international release of the iPhone 5 to also be the 21st of the month, with the carrier posting a contest to win an iPhone 5 once it becomes available (image above).
So, all in all, it looks like those that wish to pre-order the iPhone 5 will have to wait until Friday morning with an expected release date of the 21st both for the US and abroad, although of course those dates are questionable, as like we keep saying, nothing is certain until Apple says so, but we should all know for sure later today.