September 12 Apple announcement worldwide times today
We can't help but feel excited today and for many tech enthusiasts today will feel like Christmas morning. It's the big day for the iPhone 5 announcement at the Apple event in San Francisco and as with any new iPhone reveal the hype is building nicely and many people are expecting big things of the new iPhone. The Apple event takes place in San Francisco later today at 10 am local time but if you want to know the time for wherever you are in the world we have all the worldwide times for the September 12 Apple announcement today.
In the last few hours we've posted details of the announcement and also given information on a possible live video stream for the event so you won't have to miss a moment of the big reveal keynote. Now though, onto those times for the event at the Yerba Buena Center for the Arts in San Francisco. It all kicks off at 10am PT, that's 1pm ET or 6pm in the UK. We have further details of the times in major cities across the world below. As you can see in New Delhi it's 10:30pm, in Johannesburg 7pm and in Dubai 9pm.
In some countries the time difference will mean the event is actually on Thursday rather than Wednesday. For example in Sydney it will be 3am on Thursday, in Tokyo 2am on Thursday and in Hong Kong it will be 1am on Thursday. These world times came to us courtesy of Product Reviews. We shall be following the event as it happens and bringing all the development and news and at last we will know if the iPhone 5 really is going to be as important an upgrade as many are anticipating.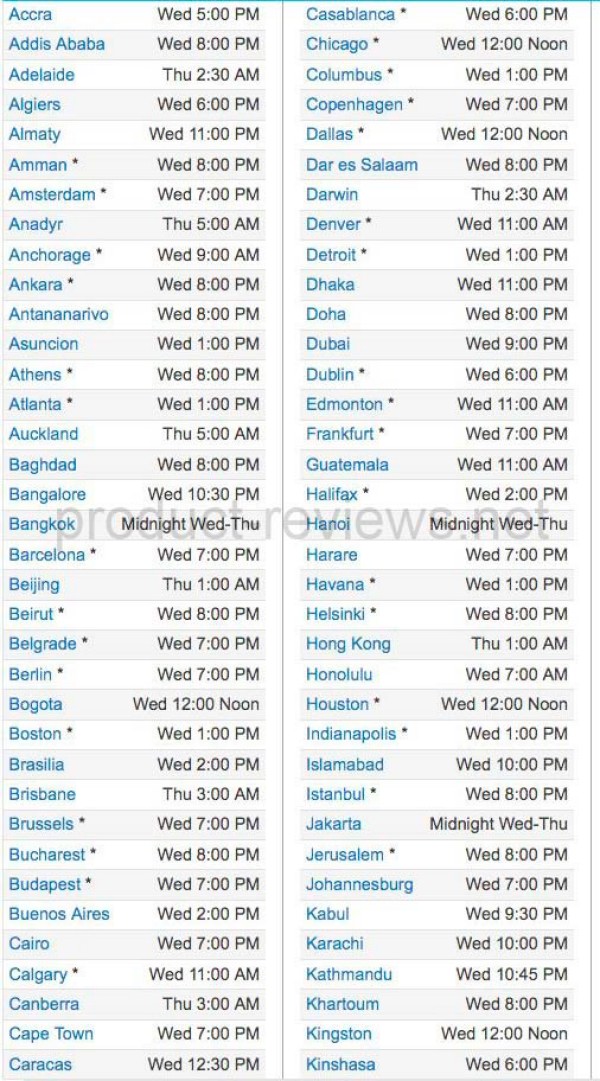 We are expecting to see a quad-core processor, larger 4-inch display, improved camera, LTE connectivity, smaller dock connector and a whole new design and these are just some of the things that have been widely-rumored. The iPhone 5 is also likely to launch running on the new mobile operating system, iOS 6 and we have been posting a lot of info about what iOS 6 will bring.
Hopefully at the event today we'll also hear much more about the new OS will bring as well as a public release date. As for an actual release date for the iPhone 5, September 21 seems to have cropped up in many reports but of course it won't be too much longer now until all these queries are cleared up.
Are you waiting for the Apple event later today and what are you most hoping to hear about, the new iPhone, the new OS or maybe the new iPod lines that are also expected? Let us know with your comments.