FIFA 13 for iOS, football screenshots and key features
Every year the new iteration of the FIFA game from Electronic Arts is much anticipated and a few days ago we told how the FIFA 13 demo was now available. We also reminded readers that this year FIFA 13 will be coming to iOS for iPhone, iPod touch and iPad users and is due to arrive at some point in September. Today we have some details for those eagerly waiting as we have some news on key features and football screenshots of FIFA 13 for iOS.
As many more gaming enthusiasts now enjoy playing games on their mobile devices rather than consoles we imagine that the demand for the iOS FIFA 13 app will be enormous. FIFA 13 has improved graphics for the best FIFA gaming experience ever plus an enhanced control scheme and the iOS app version still offers no less than 15,000 players, 500 teams and 30 leagues. Now a useful article on Operation Sports shows not only some screenshots but also lists some of the key features of the EA Sports game.
The screenshots look pretty good for an app game and it's quite handy that the app will arrive around the same time as the release of the iPhone 5 as many will enjoy playing on their new iPhones. Some of the main features include a universal build including the Gamepad, ability to connect with other fans through the EA Sports Football Club, not only to each other but also to clubs and football in the real world. Tournaments include Leagues and Cups and there's an online multiplayer mode and also Quick Match for friendlies, shootouts and practice.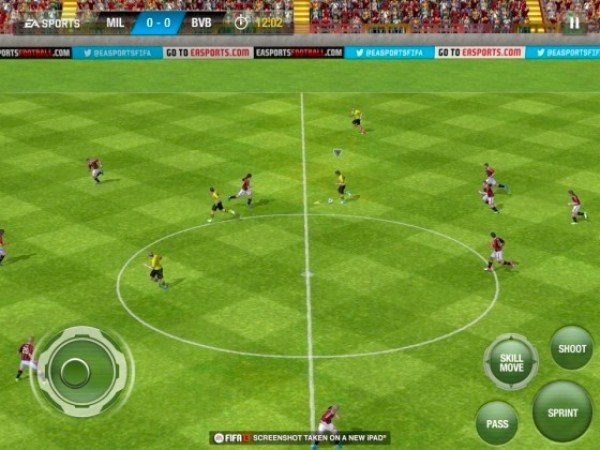 Gamers can also upload highlights to YouTube and there's also the popular Manager Mode to get your teeth into. We don't yet have an exact release date when FIFA 13 for iOS will appear in the App Store but you can bet that as soon as we know we'll give you that information. Are you itching to play the FIFA 13 iOS app? What it is about this phenomenally popular game that you most enjoy? Send your comments to let us know.