Pre-order iPhone 5 today, will you?
The Apple iPhone 5 was announced earlier this week and it looks as though Apple has another massive hit to look forward to when the phone releases on September 21. The amount of interest shown already indicates that this will really fly off the shelves when it appears so if you're a potential iPhone 5 customer it might be advisable to pre-order. The good news is that pre-orders open today and Apple is now taking those orders. We're wondering just how many readers will be pre-ordering the iPhone 5?
Pre-orders opened today for the first wave of countries where the iPhone 5 will launch on September 21. To check out if your region is included head to our recent article about release and pricing. As well as Apple taking pre-orders you will also be able to order from Verizon, Sprint and AT&T, all of whom started taking pre-orders today, as well as carriers in other regions. For instance earlier today we gave some details on UK carriers and which will carry the LTE iPhone 5 model.
A report on iDownload Blog points out that if you were hoping to pre-order an unlocked iPhone 5 today in the US then you're out of luck as it doesn't seem as though that option is available. You can however pre-order the iPhone 5 on a carrier through Apple online. We can't give links for every pre-order page for each country where pre-orders are now open but there will be many people in the UK and US so if you want the Apple Store UK head here, or alternatively the Apple Store US here. You can also head to the Apple Store for your region from either of those links simply by choosing your country at the bottom of the Apple site homepage.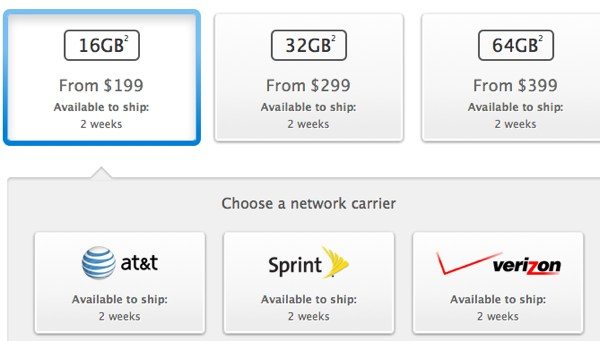 Prices for the entry-level 16GB iPhone 5 start at $199 on contract in the US. Alternatively if you're in the UK pre-orders are for the unlocked iPhone 5 at £529. A limit of two phones per customer can be ordered through the Apple Store online and the two color choices are black with slate and white with silver. Let's hope that this time around the Apple website will be able to cope with the amount of people all trying to place orders at the same time. However we should point out that although the iPhone 5 is supposed to release on September 21, in one week's time, the shipping times have already slipped to 2 weeks on the Apple US site and 2-3 weeks on the UK site.
With everything the new iPhone has to offer we're interested in hearing from readers about whether you will be pre-ordering the iPhone 5? Maybe you've already been trying to place your order and could let us know if the process went quickly? Alternatively you may have waited several hours as has happened on previous occasions? Let us know with your comments.