LG Qualcomm Event Sept 19, Optimus G baby
It doesn't seem like a day goes by without another new smartphone either being officially announced, or leaked via some sort of screenshot or supply chain source. The month of September is certainly becoming busy for the smartphone market, and we now have news of a LG Qualcomm Event on September 19th where we may see the Optimus G.
This month is certainly busy for the smartphone world as we have just had events from Apple and Nokia, and we have already heard that Motorola and HTC have got events planned for next week. Now as Cnet are reporting LG has announced its own event in New York for September 19th.
The company are teaming up with chipmaker Qualcomm for the show and have invited us to "Live without boundaries" in the press invites sent out. The event all kicks off at 8AM ET when the doors open, and Cnet's Lynn La believes the company will unveil the leaked LG Optimus G, which will be the newest flagship smartphone from the company.
It is believed the Optimus G will feature a Snapdragon S4 Pro quad core processor clocked at 1.5GHz processor, which will be powering a 4.7-inch HD IPS display with a 2,100 mAh battery. It is also expected to be NFC compatible and surprisingly be running the Android Ice Cream Sandwich operating system.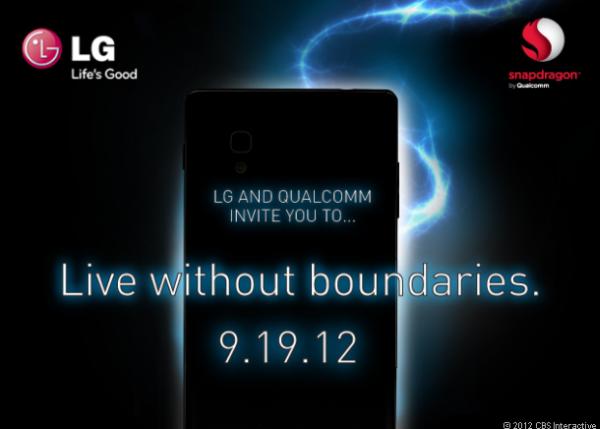 US consumers will be hoping to see the device as the company's last flagship smartphone the LG Optimus 4X HD never made it out of South Korea, but as the event is being held in New York there is every chance it will.
Have you ever owned a LG smartphone?