Forget iPhone 5, Samsung & Nokia ads go for throat
Last week Apple revealed it latest smartphone to the world at a special event in San Francisco, and while there may be many fans of the company already got their orders in or planning on doing so, some consumers are a little bit disappointed in the device. Rival companies Samsung and Nokia are basically telling consumers to forget the iPhone 5 as ads from the two go for the throat of their competitor.
Both Nokia and Samsung have decided to knock the iPhone 5 in an advertisement and a tweet, and as TheNextWeb are reporting both the companies push their own products that they design and construct themselves, with the same message of "it doesn't take a genius".
With the use of the phrase it's easy to understand that rival handsets arguably outclass the upcoming iPhone 5, obviously Apple fans will not agree with this but fans from the Android and Windows Phone camps will be enjoying the somewhat disappointing launch of the iPhone 5.
As you can see in both the images on this page Samsung have put up an advertisement comparing the specs of the Galaxy S3 with the iPhone 5, while Nokia took to Twitter and put a no in front of the phrase. It does make you wonder if the same ad salesperson may have been responsible for selling the companies the line.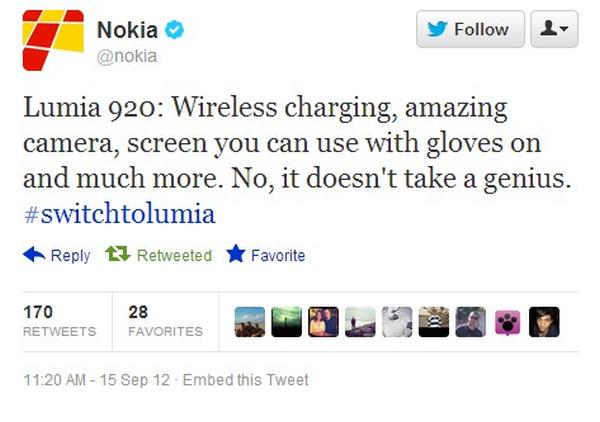 Samsung also has a pop at Apple in its ad with a remark about the USB cable, and says that the Galaxy S3 uses a standard microUSB plug. The company also makes a big thing of the specs for the Galaxy S3 compared to the iPhone 5, as the gloves are now completely off in the smartphone sales wars.
Were you disappointed with the iPhone 5?