Samsung Galaxy S3 cases for Halloween
We are now reaching the time of year that summer is quickly becoming a distant memory and thoughts are now turning to other upcoming annual events. The end of next month will see many people celebrating Halloween and today for owners of the popular Samsung Galaxy S3 we have some cases that will help you enjoy the event even more.
First up over at online retailer Etsy is the Vinyl Decal Skin Kit that is a design inspired by the Twilight Vampire Diaries. The skin kit has been designed so it looks like it has been airbrushed onto the handset, and it can be easily applied without causing any air bubbles. It will fit nicely around all of the features on the handset such as the camera, controls, light sensors, speakers, and microphones.
If you decide to purchase the skin kit you will also get the opportunity to download a free matching wallpaper background image onto the Galaxy S3. There is even free worldwide shipping and to find out more or to download click here.
Another case we have you is the Devil Tongue Stand Halloween Evil Skull Case, which as you can see in the image below doubles as a clever smartphone stand. This is available via DHgate.com and also has free shipping to the UK, and to find out more use the link provided.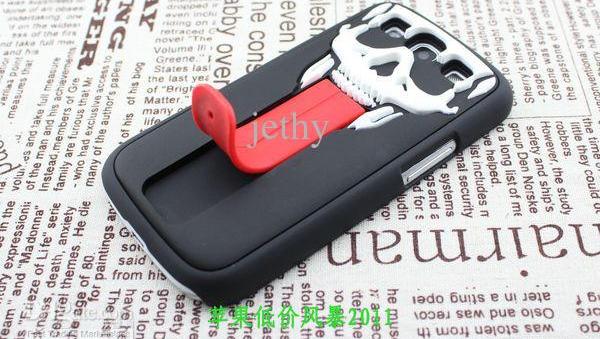 Next we have the Silicon Halloween Pumpkin Case for the Samsung Galaxy S3 that would look great at any Halloween party. The soft silicone case will protect your treasured device from bumps and scratches, with easy access to all of the handsets ports and buttons. It is also available in black, orange, and white for only $7.95 here.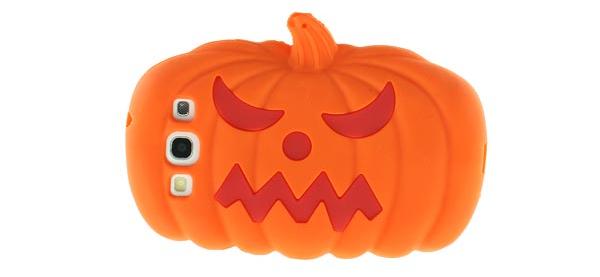 Another case is via online retailer Amazon that features a fun Frankenstein Halloween design on the back, and is available for $16.95 plus shipping. Do you know of any other Halloween cases?