Android Jelly Bean notifications specific apps
We often bring readers news about devices being updated to the latest Android operating system, 4.1 Jelly Bean, although there are many more still to get the upgrade. Today we want to take a closer look at Android Jelly Bean and in particular the new notifications and some of the specific apps that support expandable and interactive notifications.
Android Jelly Bean has been a big hit so far, with many consumers impressed with the new Android OS and one of the highlights is enhanced notifications. There are now interactive notifications and a big plus is that some actions can be dealt with directly from the notification bar with expandable notifications. More apps that support this will surely follow but at present only a few apps support the updated notification service.
A report on Droid-Life has a rundown of the applications that currently support expandable notifications along with pictures of what the apps look like. One of these apps is Gmail and this will look just like the usual notification when first shown but users will now be able to preview the email by simply using a two-finger swiping down gesture. Another useful addition is that multiple messages in your inbox that are unread will now display the senders and some subject lines in notifications. To dismiss these notifications you simply use a two-finger slide gesture to either side or to collapse the notifications you use a two-finger slide upwards.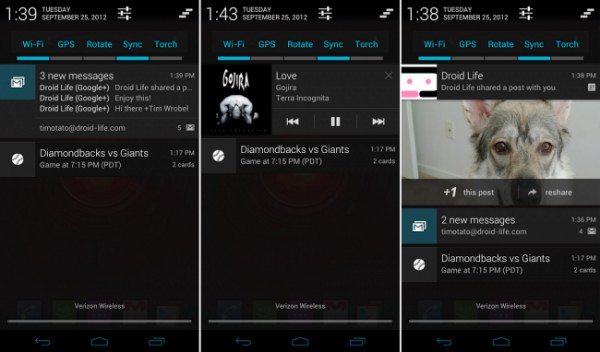 Google Music is another of the apps that support the new notifications system in Jelly Bean. You can now control this app from the notifications bar even when you are playing music and as well as information about the track and album art there's also the use of a play/pause button along with skip and backwards. Moving on to Google+ with Jelly Bean you now have the option to share directly from your notification bar and also you'll receive a '+1' to your device if tagged in someone else's post. You do need to have Google+ installed and to be signed in to take advantage of this though.
Missed calls also sees some changes as again these can be dealt with directly from your notifications bar, either to send a text or call back and screenshots that you take will be displayed in a thumbnail in notifications from where it can also be shared. Finally we move on to swiping away notifications, which users can now do as long as the relevant app isn't running at the time. This isn't brand new as it appeared in 4.0 Ice Cream Sandwich but it's useful to know.
If you have an Android device that hasn't yet been updated to Jelly Bean you may be interested in our previous article about Jelly Bean device upgrade information, with the latest details for various manufacturers devices. Are you looking forward to testing out the new notifications system that Jelly Bean offers? If you already use Jelly Bean what are your thoughts on expandable and interactive notifications? Are you pleased with the latest developments? Send your comments to let us know.