FIFA 13 football app for iPhone available, player reviews
At last millions of fans of the EA Sports FIFA game franchise around the world are snapping up copies of FIFA 13, or just about to get their hands on it. Just released in the US and due out in the UK on Friday for consoles, the game has also become available in iOS app form for mobile devices and already looks set to be a smash hit. Today we want to detail the FIFA 13 football app for iPhone and hear your player reviews.
If your house is anything like mine there have been eager voices for the last few weeks/months saying they can't wait for FIFA 13 and literally counting down the days to release. FIFA Soccer 13 by EA Sports is now ready in the App Store priced at £4.99 / $6.99. That's not cheap for a game but this is one complex app and anyone who's a fan of the FIFA games is bound to get plenty of use out of it. It's compatible with the iPhone 3GS, iPhone 4, iPhone 4S, iPhone 5, iPod touch (3rd generation), iPod touch (4th generation), iPod touch (5th generation) and iPad running iOS 4.0 or later and has been optimized for iPhone 5. The App Store download link is here.
This authentic football game is touted by Apple as being "more realistic than ever," and has impressive graphics and responsive controls. Features include a new Skill Move button with swipe gestures, full touch control, the ability to challenge your friends with Online Multiplayer and also share your best moments from Instant Replay. There are also Quick Match, Manager and Tournament Game modes. As well as this the EA Sports Football Club connects you to real football competitions, allows you to support your favorite club and share your enthusiasm for the sport with gamers across the world.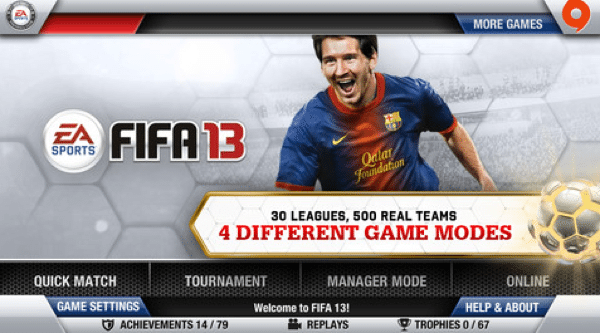 FIFA 13 for iOS features 30 leagues, 32 stadiums across the world, 500 teams and more than 15,000 players so there really should be something for everyone. We'd like to hear what you think about FIFA 13 for iOS so far though. A few customer reviews showing on the App Store FIFA 13 page are currently giving rather low reviews with some comments saying it 's not working properly on the new iPad (iPad 3) so we'd like to hear your experiences and thoughts about the app.
Have you already downloaded the iOS FIFA 13 app and if so are you really happy to be able to play the game at last? Maybe you've noticed some glitches or aspects you're not happy with, or problems if you're trying to use it on the latest iPad (as above)? We'd really like to hear all your player reviews so send us your comments about FIFA 13 for iOS and share your thoughts with other fans.