No iOS 6 jailbreak yet according to pod2g
As soon as Apple release a new version of their mobile operating system the popular jailbreaking community gets to work looking at ways to provide users solutions with ways to continue enjoying their favourite jailbreaking tweaks. Today though it has come to light that there will be no iOS 6 jailbreak yet according to popular jailbreaker pod2g.
Following the release of iOS 6 last week by Apple, many in the jailbreaking community have so far refrained from downloading the update, which allows them to continue using their favourite iOS software tweaks, but as iDownloadBlog are reporting there are many users taking to the likes of Twitter and stating they are eager to get a taste of iOS 6.
There are many users that are waiting for a jailbreak to become available so they can continue to use their various mods, but while there have been some developments with an iOS 6 jailbreak, as of yet an untethered jailbreak has not yet been made available.
Now adding some more bad news to the situation is popular iOS hacker pod2g, who has taken to his Twitter account to confirm he is not currently working on a jailbreak for iOS 6. Podg2 was largely responsible for the 5.1.1 untethered jailbreak, Absinthe iOS, but he has stated that he is currently concentrating on his job.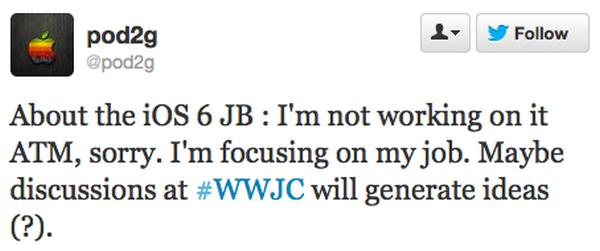 All is not lost though as he doesn't rule out any future involvement in an iOS 6 jailbreak, and mentions that the upcoming WWJC may provide some ideas on the matter. This news comes after fellow iOS hacker and developer Chpwn revealed last week that he managed to jailbreak the iPhone 5, but currently it is not known if this is untethered or a tethered jailbreak.
One of the reasons that pod2g has yet to start work on an iOS 6 jailbreak could be that Apple has vastly improved the processor layout in the iPhone 5, and each time the company releases a new firmware update it makes it harder for jailbreakers to discover new exploits in the software.
Things are moving on though as only yesterday we told you of the SoftRa1n software that can unlock a number of older iOS devices. Do you have a jailbroken iOS device?