Ryder Cup 2012 golf app, Europe wins
All you golfing fans out there probably know that when it comes to the Ryder Cup 2012, on Sunday team Europe knocked the United States out of the cup in one of the greatest comebacks of all time. Europe entered Sunday's singles matches 10 to 6 down, but ended up with a 14 ½ to 13 ½ victory.
The American's looked good going into Sunday, but Europe's comeback win tied the USA's 1999 win, and was the biggest ever for the team on foreign soil. And just in case you own an iOS device and still wish to catch up with things, we thought we'd bring you a little reminder of the 2012 Ryder Cup app for iOS devices., the official app for the event that offers live radio coverage along with hole-by-hole match updates.
The 2012 Ryder Cup app for the iPhone, iPod Touch and Apple iPad also delivers a course tour with fly overs and photos, player and team biographies, real time commentary from players, European editorial staff and analysts, customised push alerts and Facebook and Twitter chat.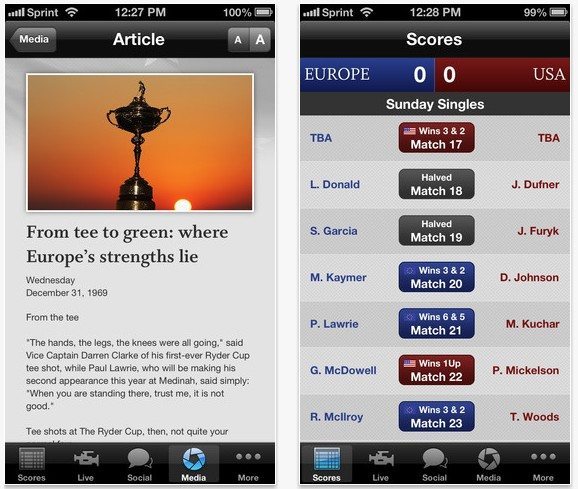 So if you happen to be an ardent golf fan and would like to catch up with things at the Ryder Cup tournament, you can download the 2012 Ryder Cup iOS app to your chosen iDevice as a free download by hitting up iTunes.