iPhone 5 sits nicely on new universal dock
If you are one of the iOS faithful that has purchased the new iPhone 5, obviously you'll be looking at some point in picking up a dock that can make use of that new dock connector on the iPhone 5, and now we have news of one of the first iPhone 5 docks to become available, a dock called the Quirky Converge
The Quirky Converge dock can charge up to four devices including the iPhone 5 at the same time, using your gadget's USB lead to plug into the 500mA port. Furthermore the power in the Quirky Converge dock shifts based on what and how many devices you are charging, meaning when you charge four devices the power is split between the four.
The Quirky Converge dock can charge mobile phones, MP3 players, Bluetooth headsets, the new iPad, and many more devices, and is ideal for home or office use, whilst featuring an innovative design that keeps charging your devices neat and organised, and allows for feeding the USB cables through a slot in the base of the dock and keep them secure by using TPE grips.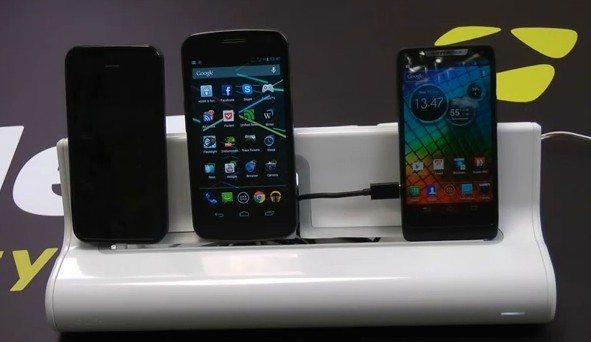 Size wise the Quirky Converge dock measures 310 x 100 x 130mm, and the 'T' shape design of the dock means you can plug in your device regardless of where their port is, side, top or bottom.
We have a quick demo video of the Quirky Converge dock for your viewing pleasure below, so don't forget to mash that play button and check out the footage to see if the Quirky Converge is the charging dock for you, and if it is then you can purchase the accessory by hitting up Mobile Fun at a cost of £39.95.
What do our readers think of the Quirky Converge, is is a universal docking station you could make use of?