Samsung Galaxy S3 Garnet Red, Expansys tempting price
If you are over here in the United Kingdom, and still pondering on whether to snap up the Samsung Galaxy S3, and perhaps have been holding back because you want the Galaxy S3 in Garnet Red rather than white or blue, but have been waiting for the price to come down a bit so you can purchase the Android smartphone as a SIM free handset, then you are in luck.
For those that have been contemplating purchasing the Garnet Red Samsung Galaxy S3 as a SIM free handset, you just might like to know that Expansys is offering the Garnet Red smartphone at a tempting price, and that price is a reasonable £429.99 rather than 550-quid.
Of course the only difference between the Garnet Red model and the white or blue models is purely cosmetic, and you will receive all the specs such as that 4.8-inch Super AMOLED touch screen, 1.4GHz quad core processor, 8 megapixel rear facing camera and 1.9 megapixel front facing snapper, 1GB RAM, 16GB storage, microSD expansion and of course Android Ice Cream Sandwich.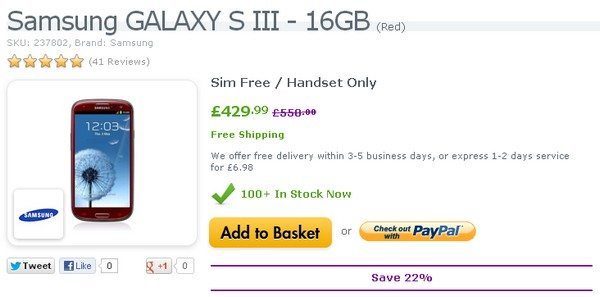 For that penny shy of 430-quid you'll receive a Garnet Red Galaxy S3 SIM free with free shipping, and delivery within three business days, or you can opt for the 1 to 2-days express delivery if you care to shell out an extra £6.98 to get your handset in your hands quicker.
So there you go, the Garnet Red Samsung Galaxy S3 at a tempting price, but are any of our readers really tempted to grab the SIM free red Galaxy S3 at that price?