Nokia Lumia 920 price somewhat shocking
There seems to be quite a buzz over the upcoming Nokia Lumia 920 smartphone, with many people saying they want the handset Windows Phone 8 handset, but at what price? Well Nokia recently unveiled the European price tag for the Nokia Lumia 920, and one does have to say the WP8 Lumia 920 does have somewhat of a shocking price when compared to other smartphones.
According to an article over on Phone Arena by way of Tech Thoughts, the Nokia Lumia 920 commands a rather hefty price tag of 637 Euros, which is roughly 25 percent more expensive that the very popular rival Android smartphone the Samsung Galaxy S3.
The Samsung Galaxy S3 commands a price tag of roughly 540 Euros, about $690, whilst the Nokia Lumia 920 is 673 Euros, roughly $840, which seems quite a bit more expensive, and might lead people to consider overlooking the Windows Phone 8 handset and opting for a less expensive rival device.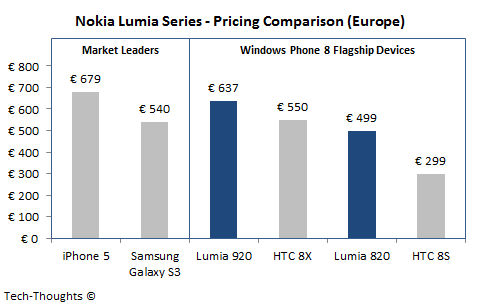 The guys have done a price comparison with European rival handsets such as the HTC 8X costing 550 Euros, the HTC 8S costing 299 Euros, and even the Nokia Lumia 820 at 499 Euros, all quite a bit less than the Nokia Lumia 920 price wise, whilst the only smartphone that is more expensive than the Lumia 920 is the iPhone 5 at 679 Euros for the 16GB model.
Thus far Nokia hasn't announced carrier availability for the Nokia Lumia 920, and perhaps the reason for that is the high price the Lumia 920 commands, but obviously the big question is will people spend that amount of cash for the Lumia 920 when they can get the iPhone 5 for a few Euros extra, or the Galaxy S3 for considerably less?
So we'd like to ask our readers who have been considering purchasing the Nokia Lumia 920 once it becomes available, if this hefty price tag has put you off, or will you be getting the Windows Phone 8 handset no matter the cost?