Motorola Razr i with free gift at Phones 4 U
Over here in the United Kingdom, if you have been wanting to pick up the first Intel powered smartphone to come out of the Motorola camp, the Motorola RAZR i, you just might like to know that you can now purchase the Android smartphone from Phones 4u stores and online.
The Motorola RAZR i is and Android Ice Cream Sandwich smartphone with a 4.3-inch Super AMOLED touch screen with Gorilla Glass, and powered by a 2GHz dual core Intel processor, and features an 8 megapixel rear facing camera with flash and multi-shot mode that allows the user to shoot ten images in under a second.
The Motorola RAZR i handset comes with 8GB internal storage along with microSD expansion up to 32GB, 1080p video capture, HFC technology, has a splash-guard coating to protect against water, a VGA front facing camera, runs Android 4.0 of course, has a battery that is said to deliver up to 20-hours life, and measures 122.5 x 60.9 x 8.3mm.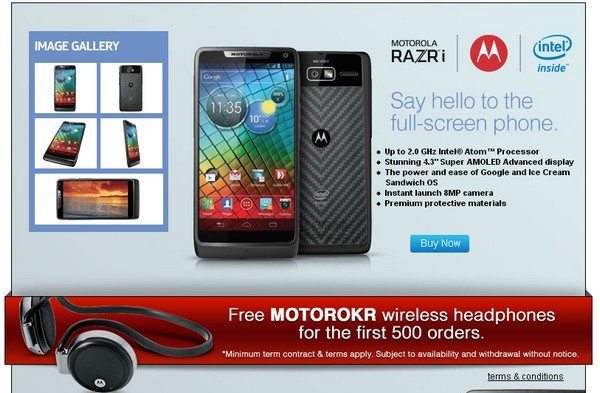 Phones 4u are running a promotion whereby the first 500 customers to order the Motorola RAZR I handset online at Phones 4u will receive free MOTOROKR S305 wireless stereo Bluetooth headphones with high quality 20mm speakers and integrated controls.
We also have a quick video review for your viewing consideration below if you are considering ordering the Motorola RAZR I, so don't forget to mash that play button and check out the footage. And the Motorola RAZR I is available from free at £21.50 per month from Phones 4u.
Will any of our readers be picking up the Motorola RAZR I from Phones 4u?