BlackBerry 10 Aristo Specs, Getting technical In depth
We've written many times about the upcoming BlackBerry 10 operating system and how important this is to BlackBerry's comeback along with the new devices that will run on it. A few days ago we gave news of an L-Series device, the Laguna, that seemed promising and today we have heard leaked details and sepcs of another BB10 smartphone on the way that looks simply amazing, the BlackBerry Aristo.
While the BlackBerry Laguna gave encouraging signs of the sort of devices to come, the BB10 Aristo steps it up to another level, if these specs are accurate that is. A specifications slide has leaked out and if the BlackBerry Aristo turns out to have all of the following this could be a huge hit and could well rejuvenate RIM's fortunes. The slide tells us that the Aristo will have a 1.5GHz Qualcomm APQ quad-core Krait processor, 4.65-inch OLED touch display with resolution of 1280 x 720 featuring OCTA Glass, 2GB of RAM and 16GB of internal storage (expandable via microSD).
There's also an 8-megapixel rear camera with LED flash, autofocus and 1080p video capture capability along with a 2-megapixel front-facing camera with 720p video recording. Connectivity-wise the Aristo has Bluetooth 4.0, WiFi 802.11 a/b/g/n, WiFi Direct, NFC, microHDMI out, micro USB and DLNA. The Aristo also has 2.4GH/5GHz 4G Mobile Hotspot. It will have a decent-sized 2800mAh battery (non-removable) and of course it will run on the BlackBerry 10 OS. Dimensions of the Aristo are 136mm x 68mm x 8.85mm so this is a beautifully slim handset.
RapidBerry gives full in-depth technical aspects of the BlackBerry Aristo including the fact that it will be a world device with the following bands. North America — GSM- Quad band (not specified), WCDMA — 2100/1900/850-850MHz, LTE — AWS/700/1900/850MHz and European Union and Asia Pacific — GSM — Quad band (not specified), WCDMA — 2100/1900/850-850/900MHz, LTE — 1800/2.6GHz/800/900MHz.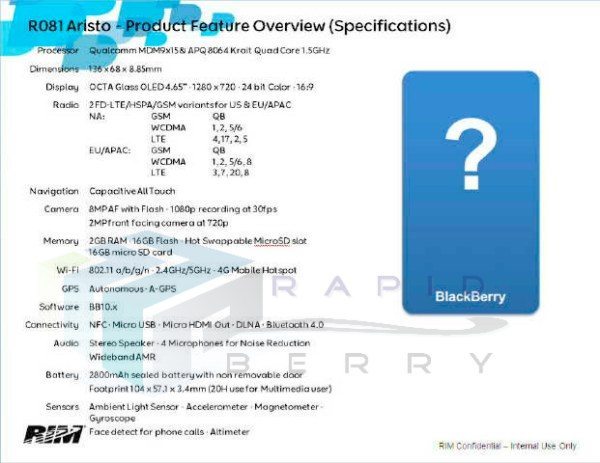 It also looks as though Face detect for phone calls will be a feature and that could mean that a quick face scan could be enough to answer a call. Apart from a face detect sensor other sensors include an ambient light sensor, accelerometer, magnetometer and gyroscope. SIM is still unclear but it's pointed out that while NanoSIM would be good it seems more likely that it will have MicroSIM.
If these Aristo specs turn out to be genuine then this looks as though it will be a real beauty of a phone and BlackBerry enthusiasts will no doubt be jumping up and down with anticipation. It's a shame this BlackBerry device will have a non-removable battery but apart from that everything else looks very decent indeed. You never know BlackBerry could even gain some Android or iOS converts.
We'll continue to keep readers informed on the Aristo (Greek for 'best') as we hear further developments but in the meantime we'd like to hear your first thoughts on this upcoming BB10 phone. If the Aristo were out tomorrow would you be heading out to the store to get your hands on it? Do you think this really could be the start of a comeback for the BlackBerry platform? Send your comments to let us know.