Windows 8 Acer Iconia W700 specs price and launch date
Some time ago Acer revealed their Windows 8 lineup of devices, which included the Acer Iconia W700 tablet, and as the release of Windows 8 gets closer, more details on the Acer Iconia W700 Windows 8 slate are surfacing and those details include the specs for the tablet, its pricing and when the device will see launch.
All the details on the Acer Iconia W700 have been revealed in an article over at The Verge, the 11.6-inch Windows 8 tablet has been designed to replace laptops, and features an Ivy Bridge 1.8Ghz Core 13 processor, an 11.6-inch touch screen of course, 4GB of RAM and a 64GB SSD with a 5 megapixel rear facing snapper and 1 megapixel front facing camera.
Design wise the Acer Iconia W700 has a unibody build with orange speaker ports, and weighs in at 2.3 pounds, and also ships with a dock which enables the user to prop up the slate at tow angles, 20 and 70 degrees in wide screen orientation and connects to the tablet via its USB 3.0 slot, and also features 3 other ports and will charge the slate,and not only does the Windows 8 tablet come with that dock but also ships with a Bluetooth keyboard.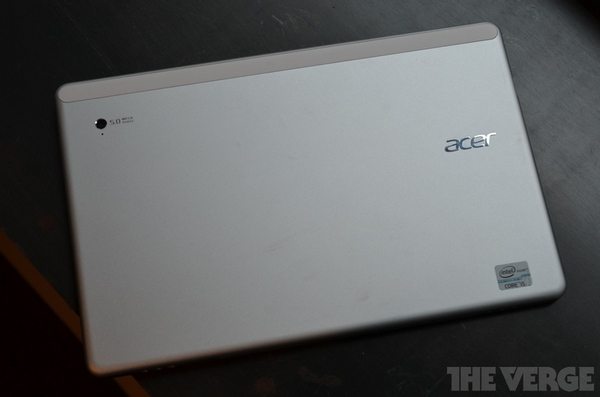 Word is the Acer Inconia W700 will launch on the 26th of this month, the same day Microsoft launches Windows 8, and the Core i3 model will command a price tag of a cent shy of 800-bucks, whilst the Core i5 version of the tablet will set you back a hefty $999.99.
So there you have it the latest details on the Acer Iconia W700, we'd like to know if any of our readers are contemplating picking up the Windows 8 tablet once it becomes available so feel free to let us know by dropping us a line to our comments area below.