Verizon Galaxy Tab 7.7 ICS update could arrive in the next week
We know that many of our readers like to know when their devices are just about to receive an operating system update and so today it's the turn of owners of the Samsung Galaxy Tab 7.7 on Verizon. The Android 4.0.4 Ice Cream Sandwich (ICS) update for your device has just been approved by Verizon and this will bring a lot of improvements and new features to your tablet that are well worth having.
Build LP10 has been approved for the Galaxy Tab 7.7 and also changelogs have been posted showing plenty of upgrades. It's a 238MB update and users will definitely notice a difference between Honeycomb and Ice Cream Sandwich. Be prepared then as it could be out within the week as this often happens once support documents are live. Samsung and Verizon both urge device owners to take advantage of the update.
News of the ICS update for the Galaxy Tab 7.7 came to us from Droid-Life and some of the key features of ICS that you'll notice are a new homescreen layout with a widget tab added, a new Video Calling icon on the apps menu, improved organization of Settings and the ability to make actions while still in the Settings menu, the ability to monitor your data usage from one place and a "Keep it Simple" basic calculator. When switching to Landscape mode you'll see a Scientific Calculator, as reported by Droid-Life.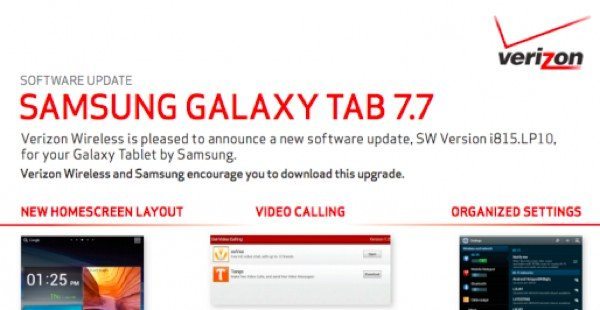 There are plenty of additional improvements too such as an email search menu, updated Quick Panel, email Composer undo and redo options and email Read receipt and email Delivery receipt support. There's also a new music app, redesigned Gallery app, Face Unlock, Desktop View added to the Internet browser and much, much more.
Hopefully it will not be long before you can see all the new features and improvements that ICS will bring to your Galaxy Tab 7.7 for yourselves. Have you been waiting for Android ICS to make it to your Galaxy Tab 7.7? Are you pleased it could arrive very soon now? Let us know by sending your comments to us.