Android 4.0 ICS update available for Intel XOLO X900
The first Intel Medfield smartphone, the Intel XOLO X900 has been out and about for some time now, and playing along with Android 2.3 Gingerbread, but the device was promised to be updated with the Android 4.0 operating system, and keeping to their promise, Intel has now made available the ICS update for the device.
News of the Intel XOLO X900 gaining the Android Ice Cream Sandwich update has been brought to our attention by GSM Arena, and the Android operating system update is now available to grab by either hitting up the Lava website or you can gain the update over the air.
According to the instructions for downloading the Android Ice Cream Sandwich update to the Intel Medfield smartphone via USB, the user requires 350MB of space and then download the file and save it with the name update.zip, to your computer but don't unzip the file, but rather copy the file to your handset, the full instructions for the USB download can be found by hitting up here (PDF).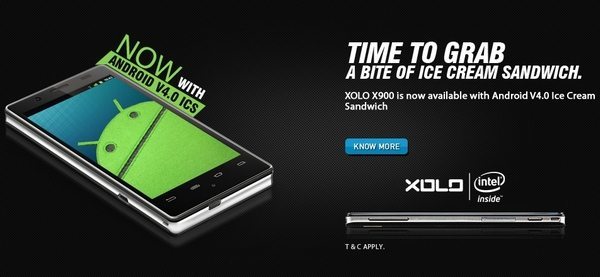 As for the over the air update, well I'm pretty sure you all know how to do that, but if you aren't too sure how to go about it with the Intel OXLO X900, you can find the instructions here, (PDF).
No doubt the Android Ice Cream Sandwich update for the Intel smartphone brings all the goodness associated with ICS, and if the previous build of Android 2.3 Gingerbread on the handset is anything to go by, this ICS OS should be stock ICS with a few customisations thrown in.